Retro Photoshop v1.0 App Recreated on iPhone
To celebrate Photoshops' 20th anniversary on the Mac, the very retro Adobe Photoshop v1.0 is recreated for the Apple iPhone!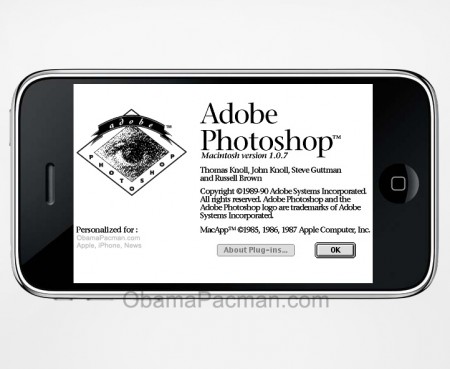 The 2010 iPhone photoshop remake took 2 Weeks to recreate. The iPhone Photoshop v1.0.7 allows global level adjustments and individual RGB channel level adjustments.
Does it need an iPhone stylus? No.
Video Demo: Photoshop 1.0 Recreated on Apple iPhone
Video created by Russell Brown, part of the original photoshop development team.
Modern Adobe iPhone Photoshop App
Update: To clarify, as the video mentioned, this is an abbreviated app developed for Adobe's Russell Brown, but it's not an official Adobe App.
This new / retro Photoshop version is not available in the App Store, because it is created solely as a promotional piece to celebrate Adobe Photoshop turning 20. However, a modern version of iPhone photoshop is available here, free: [iTunes link].
iPhone mobile photoshop features include: crop, rotate, flip, color adjustments, filters, effects, and borders. It is compatible with iPhone and iPod touch (and iPad).
Just hope that Microsoft doesn't get their hand on this, otherwise it might result in more photoshop fail in the world.
via
Briefly: Photoshop 1.0 on iPhone, Freeverse sells 5M apps [macnn]
Additional Reference
How we built the Photoshop 20th Anniversary App in Three Days [anscamobile]

Related Posts