iPad BOM Satire: Microsoft Windows, Office $0.27 Component Costs Leave Room for PC Price Cuts
(Apple iPad low component costs, high profit, nimble price reduction myth SPOOF) – Microsoft may pay as little as $0.27 for physical components of Windows 7 Ultimate. That leaves plenty of room to cut the price of a product that analysts say may be too expensive.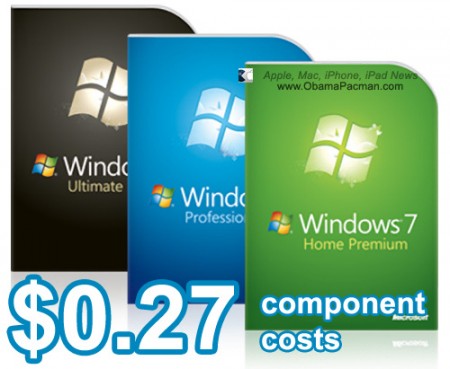 Windows Materials May Cost $0.27, Microsoft Makes 99% Profit
Microsoft's Windows operating system, including Vista and 7, with sought after features such as over 20 hour install time for select users, may have low component costs of as little as $0.27, according to a preliminary estimate by self proclaimed market research firm ObamaPacman.
The true bill of materials (BOM) of Microsoft Windows 7, currently on sale for $319 for the Ultimate retail edition, seems to cost way below even a dollar or $0.50. Detailed Microsoft Windows component costs:
DVD: $0.09
Paper: $0.11
Ink: $0.05
Hologram stickers: $0.01
Shrink wrap: $0.01
Microsoft Windows components adds up to a meager twenty-seven cents BOM. Windows' most expensive component is the box and the printed material, which consists of paper. The relatively low price of Windows materials results in very high profit for Microsoft, which makes over 99% profit on all versions of Windows.
Why buy Microsoft Windows, a product with more than 118000% markup? Users should wait until Microsoft lowers its markup.
Even the lowest-priced Windows, with many features already crippled by Microsoft, may be beyond the reach of some budget-conscious consumers, analysts have said, as Linux is free to download and install as an alternative to Windows.
Continue reading using the navigation elements on top or on the bottom of the page…

Related Posts