Microsoft Windows 7 Phone, Designed By Dilbert Committee
Exclusive, behind the scene report from the Microsoft Redmond Campus, the "innovative" Windows 7 phone team meetings! Brought to you by the clueless pointy haired boss.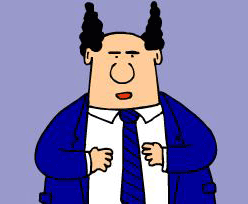 The same committees that brought you the failure known as Zune and ZuneHD is at it again:

In Dilbert's case the product, designed by clueless pointed haired boss and thrust upon the hapless committee, is a year late.
In Microsoft's case, the Redmond company trails Apple by over 3 years. Microsoft is 37 months late in terms of demoing a "competitive" product, and Microsoft is likely to be close to 4 years late when the Windows 7 phone is finally released.
via
Windows 7 Series Phone has arrived [macenstein]
Dilbert Comics, by Scott Adams [dilbert]

Related Posts