MC Hammer Can't Touch This Mac, iPad: FastMac Impact Gel Sleeve Stops Hammer Time
Stop. It's hammer time! At MacWorld San Francisco, FastMac demonstrates their Impact Gel MacBook Pro sleeve with a smashing hammer and some humps / lovely little lumps, otherwise known as M&Ms. There is a mashing and a BONUS mashup of MC Hammer and Black Eyed Peas.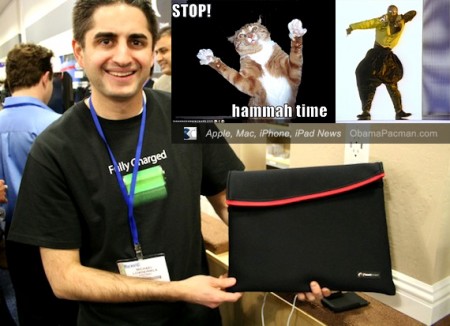 Before coming to a Mac laptop and iPad tablet, Impact Gel has its TV moments.
It was demonstrated by the impassioned Billy Mays who wrapped his hand in Impact Gel and smashes it with a hammer. It even got on the Discovery Channel show PitchMen.
Video: Impact Gel Sleeve Case for Apple MacBook Pro, Hammer Meets M&Ms Demo
At Macworld, FastMac demonstrates the soft sleeve that's suppose to protect its contents like a hard case. This FastMac Impact Gel sleeve "can be hit with a hammer and dropped without damaging the contents."
The videos shows that the M&Ms are protected by the impact gel sleeve from hammer time, while other soft sleeves don't protect its contents. Looks like the Non-Newtonian fluid in the sleeve absorbed the shock.
Can you say, "Can't Touch This" M&M?
FastMac Impact Gel Sleeve Price Availability
FastMac impact gel sleeve is expected in April for 13, 15, & 17-inch Apple MacBook MacBook Pro laptops and the iPad tablet. Expected prices are:
13-inch MacBook MacBook Pro and 15-inch MacBook Pro Impact Gel sleeve $49
17″ MacBook Pro Impact Gel sleeve $59
iPad Impact Gel sleeve $39
FastMac Impact Gel Case [fastmac]
Video: MC Hammer and Black Eyed Peas Mashup: Boom Boom Humps!?
Came upon this great video on the quest to photoshop the intro image, it's an amazing Can't Touch This MashUp remix by Robin Skouteris.
"Would You Like To Touch My Boom Boom Humps?" mashup features:
MC Hammer – U Can't Touch This / Stop… Hammer Time
Black Eyed Peas – My Humps / Boom Boom Pow
MC Hammer, Hammer Time Gallery

Related Posts