Master Disasterpiece: Toasty Apple iMac Survived Fire, Still Works
Anders Norman, a Swedish man had an unfortunate misadventure last week. His house caught on fire, destroying all its contents… Or so he thought. Turned out that his beloved Apple iMac is built so well that it still works after the fiery tragedy! (Plus Muppet "reenactment!")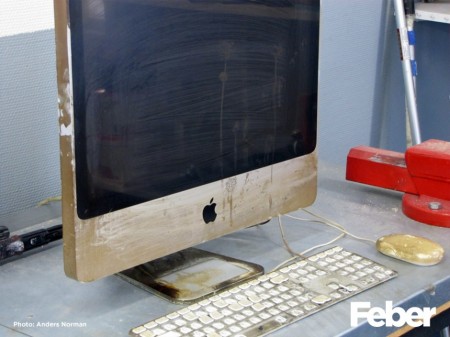 Swedish Fiery iMac Survival Story
The iMac master disasterpiece story as described by Anders Norman: "Unfortunately, the whole house and all things in there completely destroyed." While damaged from smoke and dust and partially melted, the iMac is still in operation.
"After I plugged in the burned power cord and wiped off the worst dust from the screen I pressed the melted start button. Imagine my surprise when the startup sound sings from the speakers! The screen turns on and the machine connects to the wireless network.
The mouse works flawlessly and the scroll wheel as well. Firefox starts and I take up the article from the local magazine about the fire … Fantastic!
On Friday I bought a new iMac at the Apple Store here in Umeå, which I now rejoice."
The irony of using FIREfox to display photo of his house on FIRE: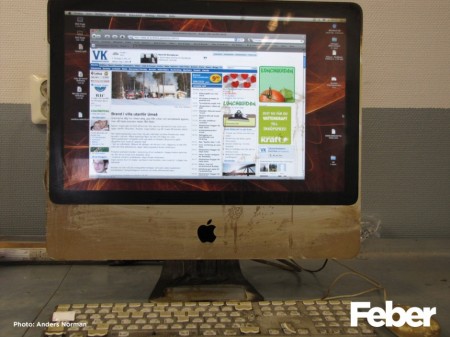 Besides looking like smores, the Apple iMac works after the fire. Would the iPad also survive the same fate? We'll find out in 2 months.
The iMac's survivial is possibly due to Apple's use of aluminum and glass that doesn't melt easily. In contrast, cheap plastic computers would have easily melted, and possibly catch on fire, incinerating its contents.
Video: Toasty Muppet So Hot, He's on Fire! (Humor)
In a related story, could this Muppet survived this toasty situation because he is using a Mac? This is actually "Muppet meets the internet," but it could almost be an Anders Norman reenactment, muppet style.
Hey pastry chefs, how about making a S'more iMac? It would be the perfect desert to the iPhone iSandwich 4G. Steve Jobs would be proud.
Reference
burned iMac [feber]
via iMac Still Works After Being on Fire [gizmodo]
and Swede's iMac takes a burnin' and it's still turnin' [tuaw]
Additional Reference Via
The Muppets: Beaker's Ballad [digg]

Related Posts