Lego iPad Art
Cool, 8 bit version of Apple's iPad tablet. Is it art, spoof, or homage to Apple?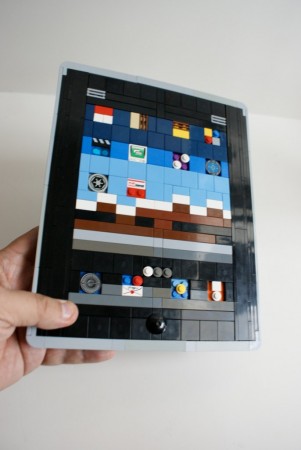 Joining other user created iPad art such as 3D DIY iPad papercraft and the DIY Steve Jobs ipad Keynote papercraft, here's an iPad mockup created out of lego.
This lego iPad art is made by Joe Meno, who wrote: "I saw the presentation, and after a day or so, I was really curious about its size. So I went to the Apple site and found the dimensions, and decided to build a form study. The dimensions match as close as possible, and took a few hours of straight building."
Joe Meno runs BrickJournal, a publication for lego enthusiasts. Check it out if you are into making things with lego. BrickJournal has a free video podcast in iTunes, and a basic iPhone app with some content from their web site.
Gallery: Lego Apple iPad Mockup
via
The inevitable LEGO iPad revealed! [cultofmac]
Jmenomeno iPad [flickr]
BrickJournal
Podcast: BrickJournal Video Cast [iTunes link]
iPhone App: BrickJournal [iTunes link]

Related Posts