DIY: How to Make an iPad Mockup, 100% Scale Model
Want to pull a Steve Colbert? Want to get your hands on the new Apple iPad tablet? Don't want to wait 2 months? Apple's new iPad tablet computer is not available at Apple Store yet, but here's how you can get one: instructions on how to make a DIY iPad mockup, at 100% scale.
UPDATE, new Feb 7 Version here:
DIY iPad Papercraft Mockup: Improved, Apple Tablet V2 iPapercraft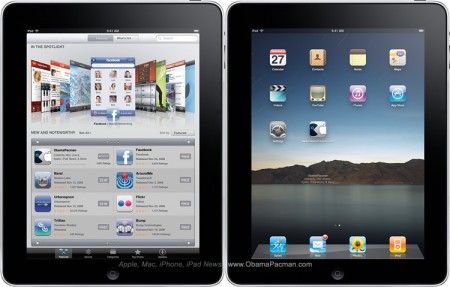 If you are wondering about the actual size of Apple's new tablet, this 100% scale, high-resolution printable iPad mockup would give you a good idea.
Think the Apple slate tablet iPad black border is too thick? After having a real iPad or full-sized mockup iPad in your hands, the border will definitely make sense.
Some Apple fans / prop makers with CNC machines or 3D printers probably made 3D models of the Apple iPad already. But this basic DIY iPad mockup is for everyone who has access to a printer.
DIY: How to Make an iPad Mockup, 100% Scale Model
Required
Image editing app that respects DPI settings
Printer, scissors
Step 1
Download images here:
Apple iPad High Resolution Image, Home Screen: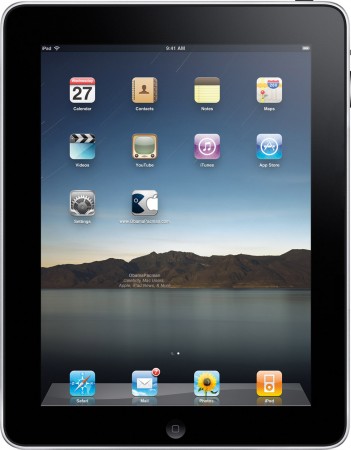 Download, high resolution Apple iPad front, Home Screen
Apple iPad High Resolution Image, iTunes App Store: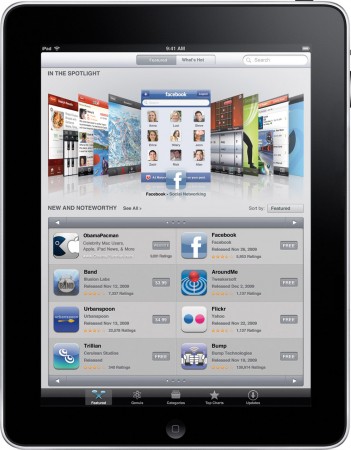 Download, high resolution Apple iPad front, App Store
Apple iPad High Resolution Image, Back: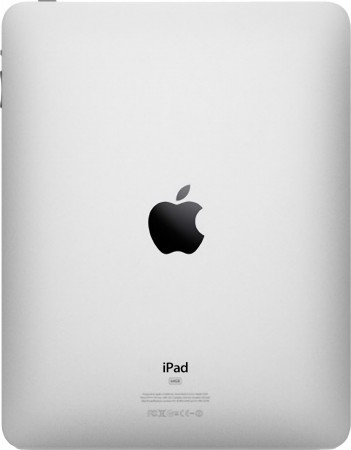 Download, high resolution Apple iPad back
Note the ".something" files are mac icon / database files, which you don't need.
Step 2
Open the image with an image editing program, such as Photoshop. Make sure:
Image is 150DPI
Resample image: NO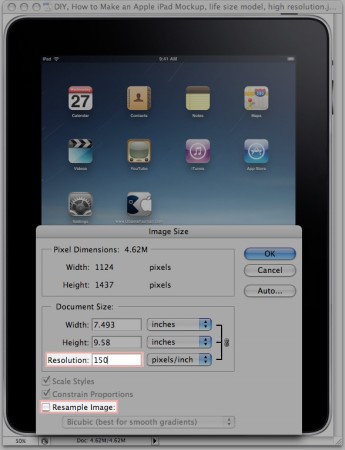 Do not print with your browser! The 100% Scale Model should have printed dimensions near: Width 7.5 inches (190 mm) and Height 9.6 inches (243 mm).
Step 3
Print. Cut it out.
Optional: Glue to cardboard layered to the right height of 0.5 inch (13.4 mm) and cut. You might need to cut it before gluing cardboard layers together.
UPDATE: instead of cardboard, foamcore and spray-mount adhesive can be used (mentioned by TUAW).
Challenges
Back of iPad is sculpted, which will be difficult to simulate unless you have model / set building skills. Too much to go into in a simple guide.
If you want a real glowing screen, and real GUI that rotates based on the iPad orientation, you probably need a lot more hardware and resources than discussed in this simple DIY guide.
The iPad weights about the same as 5 iPhones. So you can try to pull off a Yann Tiersen if you got some tape and got a bunch of iPhones. (Idea: 5 iPhones taped with gaffer tape to back of cardboard?)
Unless you make a model from metal you probably won't get it to 1.5 pounds (0.68 kg) wi-fi model weight. Got any ideas for a good way to simulate the weight?
Image Credit: iPad High Resolution Mock Up
Image Copyright Apple [apple.com], for personal use only.
Enlarged and photoshopped by ObamaPacman
Want more?
Make your own: iPad Steve Jobs Keynote Papercraft!
Apple iPad Gallery

Related Posts