Demand for iPad Higher Than Original iPhone
Latest report from RBC/ChangeWave indicates almost 50% more initial interest in Apple's new 2010 iPad tablet than original 2007 iPhone.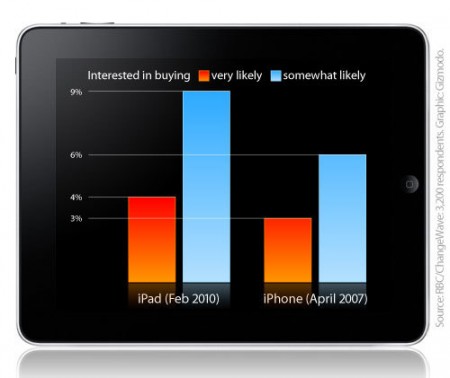 Background
The original Apple iPhone saw a lot of FUD thrown at it, such as "it's crippled without xyz," or "it's just a touch screen phone," or "it's just an iPod with a phone." 3 years later, the iPhone has revolutionized the mobile phone industry, with almost every cell phone maker attempting to ape the iPhone and the app store ecosystem.
Now, the same type of FUD used against the iPhone is repeated against the Apple iPad tablet. Depends on what web sites you visit, it might seem that there are lots of resistance for the iPad. However, customer interest tells a different story.
Initial Buyer Interest of iPad vs iPhone
The latest ChangeWave report indicates that 13% surveyed are somewhat likely or very likely to buy an iPad.
The original iPhone "only" had 9% interest. iPhone turned out to be a success, even compared to the Droid, Verizon-proclaimed kludge phone and self proclaimed superphone released almost 3 years later.
So, if the RBC/ChangeWave report of buyer interest is accurate, the Apple iPad tablet looks like it's going to be a huge success. Not a surprise as many professionals do see the usefulness of iPad.
iPad Demand by Model
The ChangeWave report also includes demand by iPad model. The chart shows very different demographics for the two lines of iPad with and without 3G. The iPad with only WiFi shows the highest demand with the $499 16GB iPad, which is in the ebook / netbook replacement range.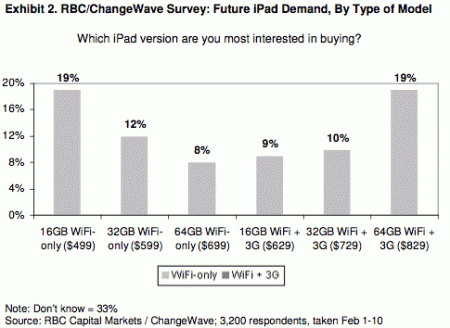 The iPad with 3G and WiFi shows highest demand for the $829 iPad with 64GB of solid state storage, showing that its buyers could potentially use the Apple tablet as a (second?) computer replacement.
Note the ChangeWave iPad demand by model is very similar to the poll conducted by 9to5mac: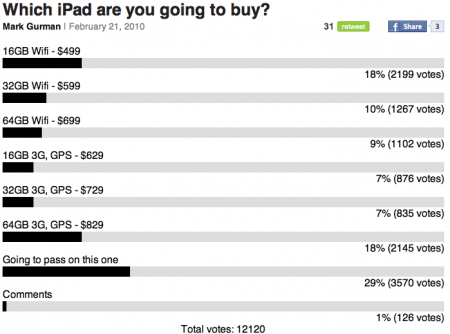 Conclusion
With the latest report and iPad's competitive pricing, Apple's new tablet is likely to make an impact in the space currently occupied by ebook readers and netbooks.
Reference
More People Interested In Buying iPad Than Original iPhone [gizmodo]
Survey Sees Pent-Up iPad Demand [macrumors forums]
Which iPad are you going to buy? [9to5mac]

Related Posts