Creative Agency KesselsKramer: Mac Users, Avant-Garde Church of Creatives?
Amsterdam based KesselsKramer is the advertising agency behind the neat "Apple Core" commercials. Based in a church with stain glass windows, artistic builds, and full of Macs, KesselsKramer headquarters is one of the most unique in the creative industry. If there is a church of creative people, this might be it. Trippy!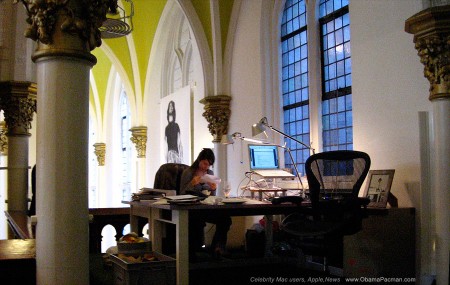 KesselsKramer: Creative Mac Users
KesselsKramer Headquarters combines the old, new, and creative freedom.
Like a surrealist's dream, they built a fort with a diving board inside of the church. Portions of the creative church of KesselsKramer is covered in fake grass carpet, comes with white picket fence and green hedges.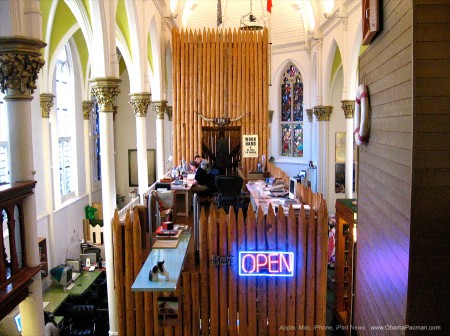 In an interesting juxtaposition, KesselsKramer has cabinet of trophies made with product containers (Trophies of Irrelevance?), high end Aeron Chairs, and lots of Macs: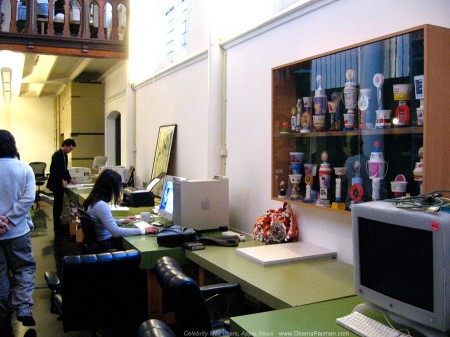 KesselsKramer uses lots of MacBook Pro laptops, iMacs, Mac Pros, and Apple Cinema Displays.
KesselsKramer's Odd, Offbeat, Nutty Website
KesselsKramer certainly enjoys offbeat humor that borderlines underground viral campaign. Their web site shows the wide range of their creativity.
Their home page seems to be a rotating sets of mini web sites. Sometimes the mini web site can be odd, other times it would seem like the webmaster is deranged, showing sites which are designers' worst nightmares.
Either way, examples of the KesselsKramer portfolio of creative work are spread throughout the mini web sites in very subtle ways.
Mythical Yati
A more "normal" KesselsKramer home page spoofs a quest for the mythical Yeti: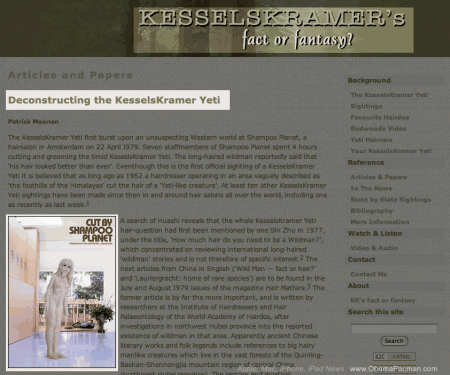 Even the ads on the page are spoofs.
We're not quite sure whether it's a commercial for Yati shampoo or not, but perhaps the Apple iPad plus Yati would be even more mythical?
Headache Inducing Myspace Style Mini Site
Another mini site looks like a teenage girl's Myspace page. Despite the design horrors, this mini web sites shows the KesselsKramer creative work for J&B Scotch "Start a Party" ads. Maybe the message is that you'll party with the energy of a teenager?
Flashing animations, and fugly high contrast has been removed by OP for your sanity: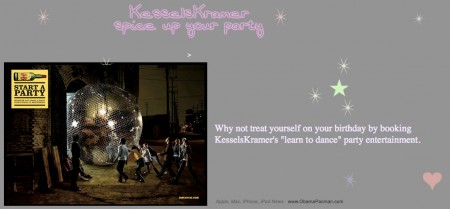 Funny text from the site: "Why not treat yourself on your birthday by booking KesselsKramer's 'learn to dance' party entertainment… KesselsKramer has a professional dancing team and will entertain you and your friends while you learn to dance!"
Google must be going nuts trying to figure out what their web site is about. =)
Gallery: Creative Agency KesselsKramer Uses Macs
Related:
KesselsKramer "Apple Core" TV Ad
References, Photo Credit:
Inside KesselsKramer headquarters [flickr]
via KesselsKramer HQ [Office Snapshots]
Kessels Kramer web site:
Deconstructing the KesselsKramer Yeti [kesselskramer]
Random home page [kesselskramer]

Related Posts