iWedding at Apple Store
iDo at the Apple Store: The iconic Apple Store has seen real marriage proposals, hoax proposals, now there is a real wedding, flash mob style!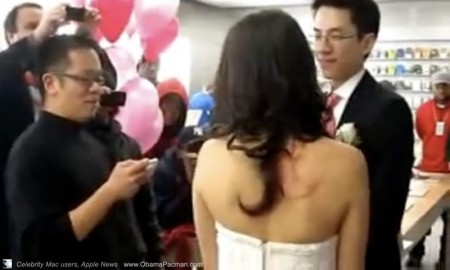 Apple Store, Unusual Place to Have a Wedding
New York Fifth Avenue Apple Store saw its first wedding on February 14 2010, Valentine's day, when Josha and Ya Ting got hitched there in a public ceremony.
The couple started their romance when they first met at an Apple Store, so they thought it might be fun to tie the knot there. They had a Steve Jobs stand in, who wore Apple CEO's signature black turtleneck with jeans, officiate the ceremony with the aid of an iPhone.
Video: Apple Store iWedding
Apple Store iWedding, Additional Nice Touches
Besides a Steve Jobs impersonator with an aid of an iPhone, the couple included numbers of nice touches in their Apple Store wedding ceremony.
The official bearer of the wedding rings is a first generation Apple iPod (Jonathan Ive probably didn't design the iPod for that, but it works):
Trashyyetclassy: "Her vows were written on a card that said 'I love you more than this' followed by a picture of an iPhone."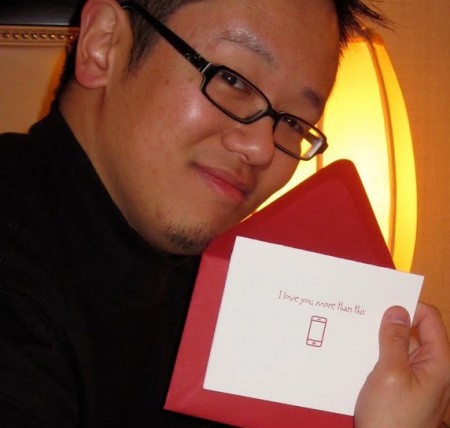 Cult of Mac reports that a quote by the real Steve Jobs was used in the ceremony: "You have to trust in something: your gut, destiny, life, karma, whatever. This approach has never let me down, and it has made all the difference in my life." We add: the quote is from Steve Jobs' 2005 Standard Commencement address.
Conclusion? Looks Like a Nice Day for an iWedding! Congrats!

First Apple Store Wedding! [trashyyetclassy] (edit: Sept 2010, this site now looks like a viral effort to advertise against the iPad)
Apple Store iWedding Ceremony Gallery

Related Posts