iTunes: 10 Billion Songs Downloaded, And Counting (Video + Growth Chart)
As predicted here, Apple iTunes reached its 10 Billion song download today! This iTunes milestone even happened on the birthday of Apple CEO Steve Jobs.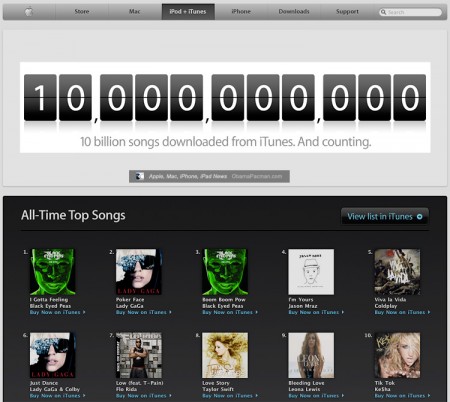 Here's the video in case you missed it:
Video: Apple iTunes Counter Reaching 10 Billion Songs
iTunes Music Downloads Growth Chart
In the free market, Apple's progress is unobstructed by a certain monopoly power.
Despite of the promise of the iTunes killer over the years from the pc pundits, large music labels, small startups, and even Microsoft, iTunes wins over the competition.
iTunes competitors that flopped include:
Sony Duet, Sony Connect, Universal Music Group Pressplay, eMusic, Napster, Rhapsody, MusicNet, Microsoft PlaysForSure, Microsoft's various partners which Microsoft later abandoned, and MSN Music.
Over the course of 7 years, the growth of iTunes is unimpeded by the competition: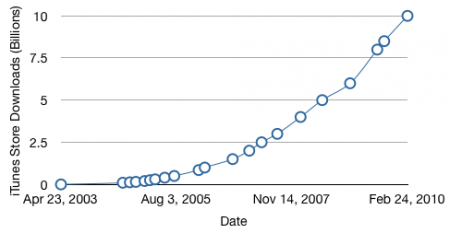 Reference
Rise of the iTunes Killers Myth [roughlydrafted]
iTunes Store Reaches 10 Billion Downloads [macrumors]

Related Posts