iPhone iSandwich 4G is Delicious (DIY)
Apple CEO Steve Jobs coming for dinner? Want to make an elaborate Apple iPhone inspired fusion sandwich? Here's an edible iPhone iSandwich with do it yourself (DIY) instruction video!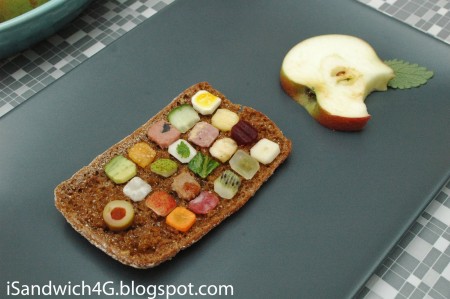 DIY iPhone iSandwich 4G Ingredients
The Apple inspired iPhone iSandwich 4G contains ingredients that would make the most experimental fusion restaurant proud. Even includes real Apple!
Ingredients include:
Bread, olive oil, black peppers, egg, carrot, avocado, beets, apple, salami, ??? with ketchup, pear, kiwi, ???, garlic, lettuce, coconut, mint, pâté, grape, banana, ham? with dijon mustard, cucumber, pineapple, chocolate? jam?, and olive for home button.
It also has an Apple logo made with a slice of apple with an authentic bite. Perhaps using a spoon to make the bite would be a better choice for the food?
Video: Apple iPhone iSandwich 4G DIY Instructions
The iPhone iSandwich 4G looks like a delicious light snack.
Perhaps an Apple iPad iSandwich would be better for some people with a larger appetite? How about an obama pacman eating the Apple iSandwich?
iSandwich [isandwich4g]
via iSandwich [buzzfeed]

Related Posts