iPad VGA to HD 1080p HDMI Upscaling Adapter
Want to output your iPad to 1080p HDMI displays such as HDTV, projectors, and computer monitors? This after market accessory can upscale VGA outputs to even above-HD resolution of 1920×1200. It can even merge the device sound into HDMI.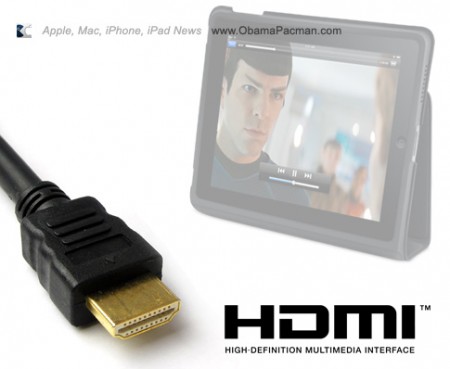 Update, November 2010
Update, November 2010: new, smaller: device powered HDMI Adapter for iPhone 4, iPad, iPod touch 4G
Update, December 2010: connect iPad wirelessly to HDTV with Airplay Compatible Devices
Atlona VGA to HDMI Video Adapter
The Atlona VGA to HDMI Scaler/Converter is a plug and play box that takes VGA signals from devices such as Apple's iPad tablet, combines with audio, and outputs a HDMI signal.
The adapter detects native resolution of the display and scales the source output to match it.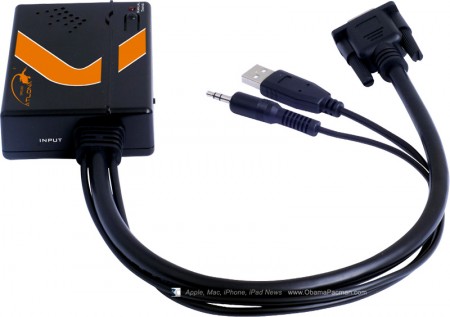 The VGA to HDMI converter is powered by an USB port. You should be able to use one of Apple's wall power adapters for iPod, iPhone, and iPad, which has an usb port, for power.
Pre-order for $119. Estimated availability date of February 22, 2010, so it should be available on iPad release day.
Update:
Buy the iPad VGA to HDMI Adapter: [amazon link
] ($87 currently.)
Alternative HDTV Connectivity: Apple iPad, Component / Composite Output
Besides VGA output at native resolution of 1024×768, which is the standard resolution of projectors, Apple's iPad tablet can also connect to HDTV at 576p and 480p with Apple Component AV Cable; 576i and 480i with Apple Composite AV Cable.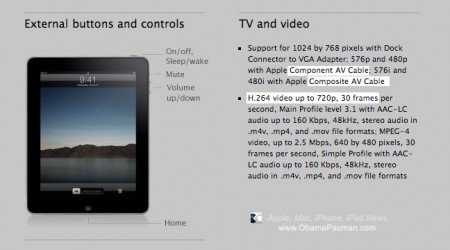 So now, with the new third party accessory, the iPad can output to all the standard media displays, connecting via: VGA, HDMI, DVI, Component, Composit. (Keep in mind that HDMI can be converted to DVI with a simple adapter).
Apple Component AV Cable, $49 [amazon link
]
Apple Composite AV Cable, $49 [amazon link
]

Related Posts