iPad iPhone Evolution: Steve Jobs Keynote Projection (Humor)
What is the future the iPad and Apple devices if you extrapolate the difference between the 2007 iPhone and the 2010 iPad?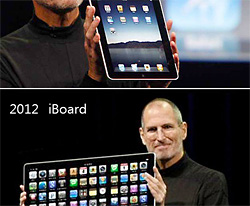 Future iPhone, iPod touch, iPad Evolution
Heres the fun projection on Apple CEO Steve Jobs' famous keynote. Using the perceived trend of Apple product introductions from the 2007 iPhone to the 2010 iPad, results in 2012 Apple iBoard, 2014 Apple iMat.
Let's say, it's got something to do with photoshop.

The Apple iPhone was actually unveiled and released in 2007. The image, listing the iPhone introduction at 2008, is made by Europeans who did not see their first official iPhone until 2008.
It'll be fund to play multitouch iTwister on that. Want more? Here are more iPad spoofs / humor. But keep in mind that iPad is not a big iPod touch.
Reference
L'évolution de l'iPad en 2012 et 2014 [begeek.fr]
via What Comes After the iPad? [gizmodo]

Related Posts