iPad iBookstore e-Book Prices, the High Price Myth
Are the Apple eBooks going to be expensive? Pundits are circulating the myth that iPad e-Book prices will be vastly more expensive at $14.99 while Amazon Kindle eBooks will maintain the mostly $9.99 price point. But what are the actual potential prices of e-Books in the iPad iBookstore?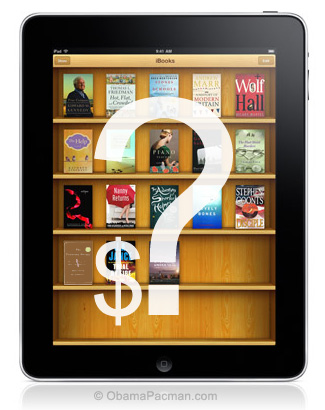 Apple iBookstore will offer popular books, from classics to best sellers, textbooks for students, and possibly magazines, newspapers, and other types of publications for the iPad tablet.
There is quite a lot of interest in the iBookstore from the print publishing industry. The problem is that official Apple ebook prices are not released yet. Would the iPad iBookstore provide eBooks at flat price like the original iTunes music store, or will there be variable pricing like the iPhone App Store? The myth is that Apple is aiming for expensive e-book prices.
Example iBookstore e-Book Prices: Steve Jobs iPad Keynote
Few unconfirmed details have emerged, but the Steve Jobs' Apple iPad Keynote did provide some hints:
$14.99 iPad iBookstore e-Book?
The often quoted $15 iPad eBook price came from the iBooks app demo, in which Steve Jobs bought the ebook "True Compass: A Memoir" by Edward M. Kennedy for $14.99: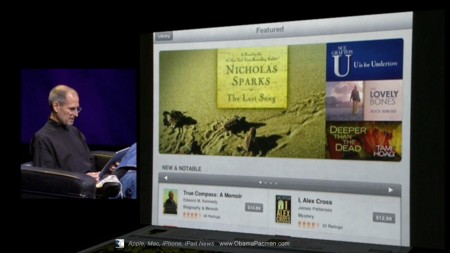 Overlooked by the pundits, is just seconds before that, Steve Jobs showed the iBookstore NYTimes bestseller list, with eBooks prices ranging from $7.99, $10.99, to $12.99.
$7.99 to $12.99, Variable iPad iBookstore e-Books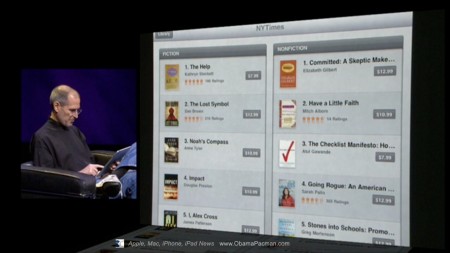 The iBookstore demo bears some semblance to the successful iTunes App Store in term of variable pricing. Although the prices could have been placeholders made for the keynote demo, judging from the variable prices shown, it's highly likely that Apple will offer variable e-book pricing.
Note the pundits ignores the potential for $7.99 to $12.99 books.
iPad eBook High Price Myth
The Myth that Apple aims to charge a high price for iPad e-Books is wrong. History has repeatedly shown that Apple would rather keep content inexpensive if possible.
Apple has revolutionized the music industry with the convenient-to-purchase, low cost per song iTunes music store, Apple also has pioneered the successful mobile app store with numerous inexpensive and free iPhone apps that are high-quality and intuitive to use.
Is Apple going to open the iPad bookstore offering products that are vastly more expensive? The final prices will all depends on the executives of the publishing industry. Yes, there are reports that publishers want to raise their prices, but if Apple has its way, it won't be more expensive at all.

Related Posts