10 Billion iTunes Song Download Countdown: Happening Today (Update)
Apple iTunes music store, the largest digital music store in the U.S. and available in many countries around the world, is about to reach its 10 billion song download milestone. For the occasion, Apple is providing a $10,000 prize! OP has calculated that the winning download will happen today.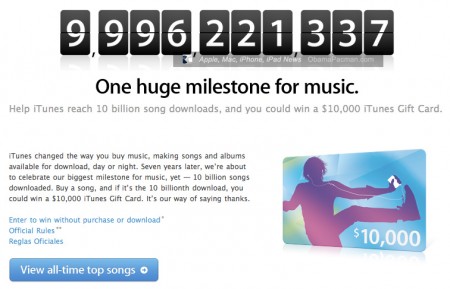 "One huge milestone for music."
A $10,000 iTunes gift card is offered by Apple as the prize for the person who downloads the 10 billion song. It's likely that Apple CEO Steve Jobs will personally call to congratulate, as he's done before for some of the previous contests.
OP Editor has calculated that at the current rate of thousands of songs per minute, the ten billion iTunes song download milestone is going to happen today, February 24, 2010 EST. (Unless something broke down or people stop buying songs for the day.)
The preliminary calculation puts it in the late evening, but it is likely the contest winning download will happen earlier due to expected increase in purchases.
So what are you waiting for? For song count, contest rules, and limited free entries:
iTunes celebrates 10 billion songs downloaded [apple]
Background
Apple iTunes music store opened April 28, 2003. The first 1 billion song was sold on February 23, 2006. The 5 billionth iTunes song sold on June 19, 2008.
In the recent Decade of Apple conquests (even against Microsoft), the iTunes music store has surpassed competitor stores from Amazon, Walmart, Microsoft, and Microsoft partners.
Update: Contest is now over
For more, read: Apple iTunes music store: over 10 billion songs and counting. Hope one of you won!

Related Posts