WSJ Walt Mossberg First Impressions of New Apple iPad Tablet
Wall Street Journal principal technology columnist Walt Mossberg gives his first impressions on the new Apple iPad tablet.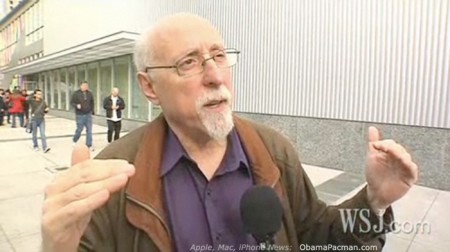 The real Walt Mossberg (not the Mosspuppet Apple iPad Review Spoof this time) gave an overall favorable review of the Apple iPad which has the typical, well designed Apple grace.
Walt Mossberg's first impression conclusion? "Still, the software looked impressive, and that could help Steve Jobs do the one thing even he has never done in an amazing career: get the public to love not just a better version of an existing type of gadget, but a whole new category of gadget."
Video: Walt Mossberg Apple iPad Tablet Quick Review
Other points?
Mossberg explains the business case behind the Apple iPad tablet. Competitors will be hard to make copycat products, especially at the price Apple is offering. iPad also runs all the iPhone apps on day one, with over 140,000 iPhone iPod touch apps. (We can see that the new Apple iPad has a major advantage against imitators.)
Walt Mossberg also has a written quick iPad review with more details.
For example, he mentions the differences between iPad tablet from iPhone and iPod touch: "iPad adds some user interface elements and functionality that aren't available–or at least typical–on smart phones, but look more like computer software."
First Impressions of the New Apple iPad [mossblog]
via Mossberg reviews iPad [9to5mac]

Related Posts