Want Talking Guitar? Awesome iPhone App Converts Voice / Bah Ba Ba Bah Into Music
Want your instruments to talk? There is a really cool App for that — new iPhone / iPod touch App converts voice into 10 different instruments in real time. Simply sing into a microphone, and the app plays a real sampled instrument which follows what you sing!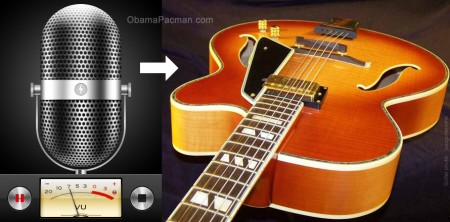 Want to replicate Peter Frampton's talking guitar? Want to be like Director Robert Rodriguez's one man crew? Got an idea, can sing "Bah Ba Ba Bah" but cannot play an instrument?
A new, really awesome app, Voice Band [iTunes link], is made to create entire songs with only your voice.
It's like Apple's Garage Band, for the iPhone and iPod touch, except the voice replaces midi / instrument input. The app converts the voice to instruments. The app also has a mic mode to record vocals. For those who need it, there is an auto-pitch mode to help people stay on key.
The music created is layered together, one instrument at a time.
Works with Apple iPhone and recent iPod touch. (Recent iPod touch can use an external microphone).
Video: Voice Band for the iPhone Walkthrough
Now the question is, how long will it take for someone to convert "Pants on the Ground" to a real song?
Viral Video: Pants on the Ground
Video of American Idol, 62 years old General Larry Platt sings vocal "Pants on the Ground." Unrelated to the story but perhaps it might be funny if this hilariously bad vocal-original is converted to an instrumental song.

Features
Voice Band [iTunes link] App features include:
Instruments include 2 guitars, bass, sax, 2 synths, drums, vocal
Built-in effects distortion, reverb, and delay
For musicians, adjustable scale and metronome
Play to your favorite your music from your iPod
Songs can be saved and emailed
Creating music by layering your own creations? Now you can.
via
Voice Band iPhone App Converts "Bah Ba Ba Bah" Into Music [gizmodo]

Related Posts