Vimeo Serves HTML5 Videos (Flash Alternative)
Following Google's debut of HTML5 videos, Vimeo, a popular video service, announced beta availability of HTML5 videos as an option to Flash videos.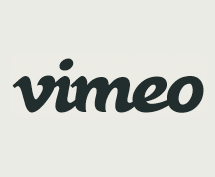 As explained in the YouTube Flash / HTML5 Video article, Flash videos are resource intensive, especially for HD videos. It's great to see more services offer an alternative.
Vimeo has a mobile site that already serves non-Flash videos, but the new HTML5 video option seems to be a good option, useful for all computer users. Here's an overview of the Vimeo Beta HTML5 video service:
Benefits:
Jump anywhere in the video, without having to wait for it to buffer
Videos suppose to be smoother, less jumpy
Drawbacks:
Currently Beta, might be buggy
Cannot go full screen at this time
Requirement:
Same browser support as YouTube. Safari, Chrome or IE with Chrome Frame
Works only on Vimeo.com (not for embedded)
About 90% of Vimeo videos from last year has HTML5 video option
About 35% of total Vimeo videos still require Flash, automatically switched when required
How to: HTML5 videos on Vimeo
Vimeo described "click the 'Switch to HTML5 player' link below any video." However the toggle is not actually under the main video. Currently it's to the lower right side of the page, beneath the "more" section: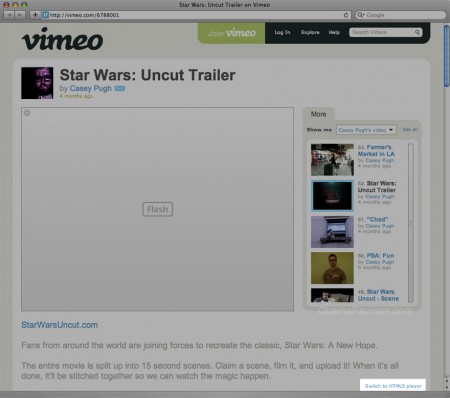 This fun video is the Star Wars: Uncut Trailer go to the article and hit the orange title to go to vimeo.
Note that ClickToFlash is installed, which blocks flash content on Safari Mac unless you allow it.
Full Screen Video, Zooming Workaround
Vimeo said they'll fix the lack of full screen issue in the near future.
For Mac users, the current lack of Vimeo zooming is not a big problem, as system-wide-zooming is available In Mac OS X. Here's how:
Click on the search box of browser or another place where you can set the cursor.
Mouse over the video, Ctrl+Scroll to zoom
Once zoomed in, hit the arrow keys once to get rid of the cursor
Step 1 and 3 are only used to get rid of the mouse cursor; those steps are not needed in some versions of OS X.
Works?
Works in Mac OS X 10.6 Snow Leopard
Works as expected.
HTML5 video utilized less CPU than Flash video on Safari, Apple Mac OS X Snow Leopard.
Performance Problems, 10.4, 10.5
Experienced problem on Safari 4.04, running 10.4 Tiger and 10.5 Leopard. Tested on Apple iMac and MacBook Pro. On the configurations tested, Vimeo's HTML5 video maxed out the CPU, resulting in video stutter (Flash video seems to play better at this time).
Conclusion
Currently, Vimeo's beta HTML5 video option works great for some, but not for others. Your performance might vary. If you are watching Vimeo videos, give it a try, it's easy to switch back if you run into problems.
Since the Vimeo service was probably released due to YouTube's release of their HTML5 video this week, Vimeo is likely to improve the performance in the future. On the systems that work, HTML5 videos are great, so give it a try!
Reference
Try our new HTML5 player! [vimeo]
via YouTube and Vimeo get HTML5 video [cultofmac]
Other
ClickToFlash, Flash-blocking plug-in for Safari on Mac OS X [github]

Related Posts