Top 5 "Holy" Apple CEO Steve Jobs Illustrations / Photoshopped Images
Steve Jobs seems to have an exceptional talent for seeing real, practical uses of conceptual technology that were almost always ignored by the ordinary people before Jobs' mighty touch. Therefore, some might think Steve Jobs has a godly or holy ability to transform industries, so here are our top 5 photoshopped "holy" Steve Jobs illustrations.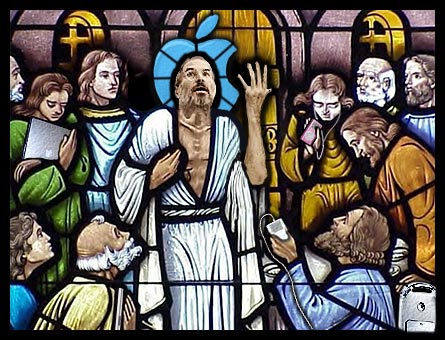 On 10AM PST January 27, 2010, Steve Jobs is expecting to unveil the rumored, mysterious Apple Mac Tablet, iSlate, or iPad in his Apple Keynote at Yerba Buena Center for the Arts. It is expected to change the publishing industry and then some. So here are some "holy" Steve Jobs, Apple / Tablet / touch-screen inspired illustrations for your enjoyment!
Gallery: Top 5 "Holy" Steve Jobs Illustrations
Reference: Top 5 "Holy" Steve Jobs Illustrations
Kirchenfenster stain glass Steve Jobs, Apple, iPod, PowerMac G4, PowerBook (current day MacBook Pro), and white ear buds! [soulscode]
Steve Jobs as iSlate iPad Mac Tablet Moses [iphonesavior]
Da Vinci Last Super, Steve Jobs, friends and enemies [soulscode]
Steve Jobs iPhone godly holy halo [source unknown]
Steve Jobs Apple Mac Tablet [macdailynews]

Related Posts