Old Macs As Art Installations, Brooklyn NY Reception Tonight
Exhibit of art made from old Apple computers at Brooklyn near the big Apple, New York City, touches on topic such as recycling of electronics. The show is inspired by the Macintosh hobbyists who convert their old, cherished computers into fish tank and potential art.
The show "Programmed" by the Mac Support Store and Brooklyn Artists Gym, "where artists create stunning new works of art from recycled Apple products," references Marcel Duchamp's ready-made/mass-produced items.

The art includes necklace made out of an iPod, a multi-media installation "Stay Hungry, Stay Foolish" which is homage to Steve Jobs' Stanford commencement speech, portrait of Bill Gates as doormat, and more.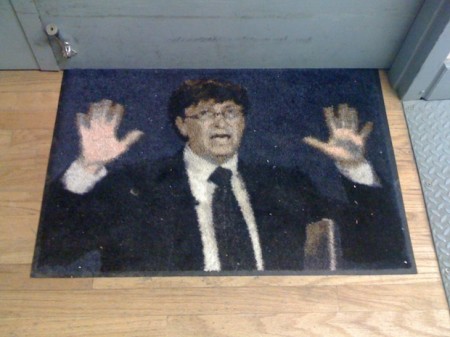 Reception is tonight, January 15, 2010 6pm to 9pm. Show will continue at the Mac Support Store through March 13.
Video: "Stay Hungry, Stay Foolish" Steve Jobs Homage Art Installation
Steve Jobs' voice, Stanford commencement 2005, in this multimedia art.

Cult of Mac has more photos.
Programmed Show
via "Programmed" Art Show Examines "Fetishizing" Old Apple Electronics [cultofmac]

Related Posts