Nexus One Users Suffered National Wide Outage Bug
Besides poor 3G connectivity among other problems, U.S. T-Mobile users of Nexus One might have to fear random national wide data outages.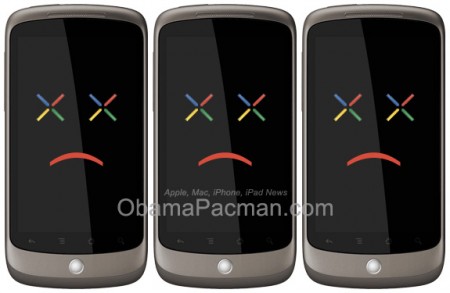 When users of Nexus One tried to browse the web this morning, some get an error message that reads, "To connect to the device you are using, you'll need a webConnect data plan."
Others would get the 3G connection icon but no data connectivity. Nexus One, the self-proclaimed "superphone" did not work on Edge either.
The problem did not affect other phones on T-Mobile U.S. network. Only affected the Nexus One.
Nexus One Support Run Around
Knowing Google has no phone support available, and the only Google technical support takes day or days long to answer support emails, users contact T-Mobile for trouble shooting.
Some users are told to bring their Nexus One to a T-Mobile store for trouble shooting. Others are transferred by T-Mobile support to HTC technical support.
Later, as T-Mobile support got flooded with calls, people got a pre-recorded message such as: "We are experiencing problems in your area with Android services. This may impact your web, messaging and email. We are working on it and hope to have it resolved shortly."
Hours after T-Mobile support got flooded with Nexus One support calls, some claiming over 9 hours later, the problem was fixed. To get back their data connection, Nexus One customers are required to manually reboot their phone.
Nexus One Background
This is not the only connectivity problem related to the Nexus One. There is also a problem where HTC Nexus One phones prefers Edge even when 3G wireless mobile network is available.
Last month, Nexus One's "open" Android marketplace approved malicious app from scammers designed to steal important financial data of Android users.
Nexus One is the HTC's Apple iPhone wannabe, branded and sold by Google as Google "superphone." It runs Google's Android phone os, which Google bought in 2005.
via
Nexus Ones Plagued By Strange, Nationwide Data Outage [gizmodo]
Additinal reference
Nexus One has poor data reception problem [gizmodo]

Related Posts