Microsoft Fails Promise Again, Misses Injunction Deadline, Office 2007 Pulled From Retail
In an IP-infringement lawsuit, Microsoft was found guilty last August of unauthorized-use of intellectual property in Office 2003/2007. The resulting $290 million verdict bars Microsoft from selling the infringing software after January 11th until removal of counterfeit technology. Despite promises to the contrary, Microsoft starts the new decade failing to meet court injunction deadline.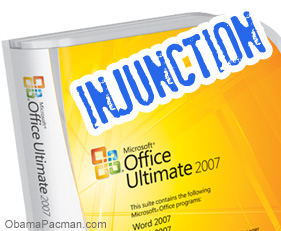 Microsoft Fails to Deliver
Is it realistic to think, given 5 months of time from the injunction verdict, Microsoft will follow their word by successfully removing what the Microsoft PR spin calls a "little-used feature," thus avoiding the injunction?
Apparently not.
Since Monday January 11, 2010, most, if not all boxed versions of Microsoft 2007, even the $679.95 Office Ultimate package, are no longer available for sale from the Redmond company. While only downloadable copies are available today, Microsoft lists status for version of Office 2007 as "The packaged product is temporarily unavailable."
Looks like boxed retailed versions of the highly lucrative software isn't completed in time as "promised" by Microsoft. Not even two weeks into the new decade, Microsoft continues their consistent record in missing deadlines.
Microsoft Theft of Intellectual Property Resulting in Injunction, Sounds Familiar?
Just recently, in November, various versions of Microsoft Windows were banned in China (including Windows XP) due to similar Microsoft infringement of intellectual property.
Continue reading using the navigation elements on top or on the bottom of the page…

Related Posts