"Leaked" Microsoft Retail Store Concept Sketch!
Humorous concept sketch of Microsoft retail store reveals the unspoken Microsoft plan, including details of their App Store software selections, theater presentations, and really smart guy bar! All the stuff they copied from the Apple Store, with the Microsoft touch. It even shows the Microsoft focus on security!
"Leaked" Microsoft Retail Store Concept Sketch, V1.0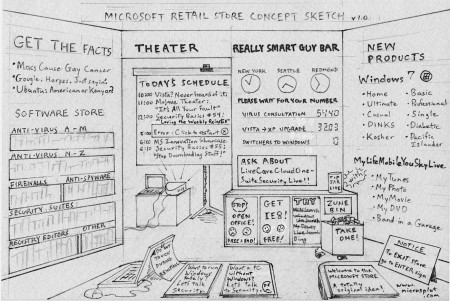 Forget about MS Store copying the Apple Retail Store, as there is no Apple Genius Bar anywhere in the concept sketch. Looks like Microsoft actually thought of everything for once!
The awesome Microsoft Retail Store Concept Sketch is by Microsplot. It's a great satire with high attention to details. Featuring all the details that makes Microsoft:
Available software
Security
Contradicting spins on free
Versions, versions, versions
Long Lives Extended Useless Drawn Out My Product Names Live
They even scheduled a 10 minute presentation on Microsoft Innovation!
A huge win for Microsplot, and great summary of Microsoft fails.
[LEAKED: Microsoft Retail Store Concept Sketch!, MicroSplot]

Related Posts