JibJab, Maker of Great Videos: Mac Artists & Entrepreneurs
Happy New Years! Let's welcome 2010 with a humorous 2009 Review By JibJab! JibJab is a digital entertainment studio founded in 1998 by brothers Evan and Gregg Spiridellis in a garage in Brooklyn New York, using Apple PowerMac G3. Now JibJab is a worldwide sensation and a successful business employing dozens of creative staff.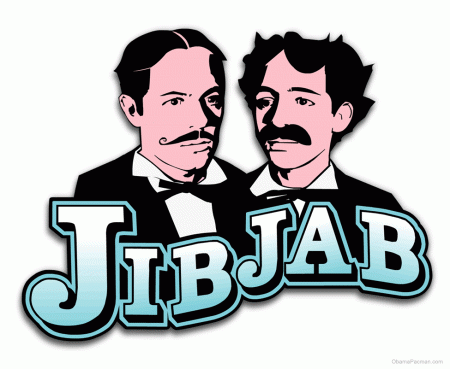 Video: Never a Year Like '09 – JibJab
JibJab 2009 Year in Review, featuring Obama, Senators, Michael Jackson, Kanya West, Balloon boy, Keyboard cat, Tiger Woods, Octomom, and many more:
JibJab Business History
JibJab brothers Evan and Gregg Spiridellis are experts of very different businesses. Gregg was a former investment banker. Evan is an accomplished independent animator creating festival-winning short films.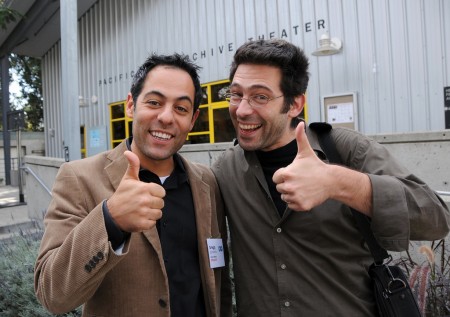 They started their business typical of many internet startup, in a garage. Here is a photo of their early office which contains Apple computer, PowerMac G3 on desk.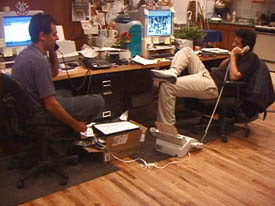 JibJab created entertainment through the dot com boom. After the dot com bust, JibJab created holiday book for Disney and produced viral video for Sony.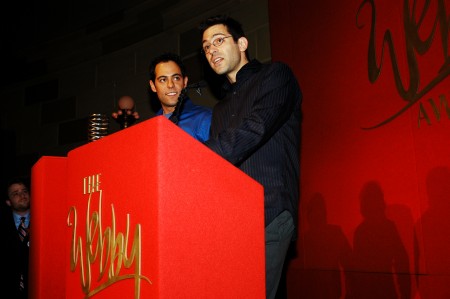 In 2004, JibJab released the video "This Land!" about the Bush/Kerry Presidential campaign. The video resulted in instant celebrity and international fame. NASA had even contacted the brothers for permission to send a copy of the animation to the International Space Station. On December 31, 2004, ABC's World News named the Spiridellis brothers "People of the Year."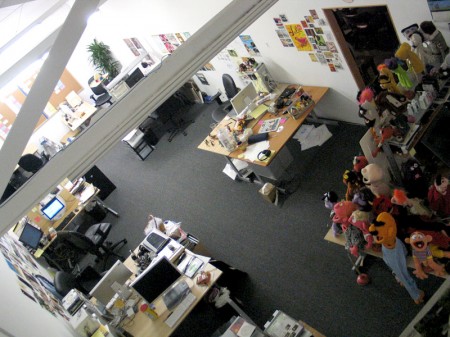 The JibJab team has grown since then. Now JibJab is a 35-person company comprised today of some of the best and the brightest artists, technologists, and business people.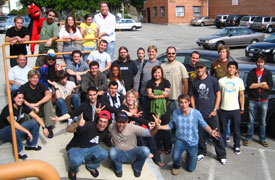 Video: JibJab This Land!
"This Land!" is the classic JibJab video that started their world-wide celebrity. Warning: video contains a singing G.W. Bush, which might bring some people nightmares. Watch at your discretion. Video also features U.S. Senator John Kerry.
Who says Macs and creativity are not for business?
via
JibJab [Official Site]
Additional photo credit
JibJab brothers photo [flickr]
Webby photo of JibJab brothers [webby awards]
Overhead JibJab office photo [cooked art]

Related Posts