iPhone Wins Smartphone Touchscreen Performance Test: Better than Nexus One, Droid
Performance of a vital component of the touchscreen smartphone is put to the test by MOTO Development Group, a firm with almost two decades of industry experience. Verdict? Apple iPhone has the superior touchscreen, better than latest Android phones tested: HTC Nexus One (branded as the Google phone), Motorola Droid, and Droid Etis.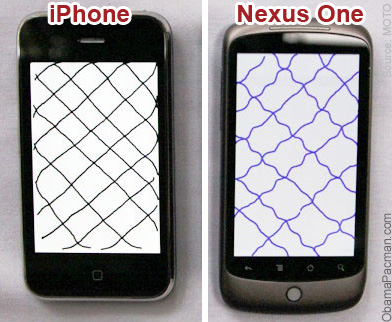 At the 2010 International CES, MOTO Development Group announces their simple DIY Performance analysis test for Touchscreen consumer electronics and their findings. iPhone's mult-touch capacitive touchscreen wins!
Background
Success of the Apple iPhone has brought a whole generation of iPhone inspired / knockoff smartphones with touchscreens. The iPhone wannabes often tout "better" features, but are these me-too companies concentrating on the wrong features? What about a vital component of a touchscreen phone, the touch screen?
MOTO Labs: All touchscreens are not created not equal.
Typically they perform measurements with sophisticated tools in their lab, but MOTO Development Group announces developed an easy, DIY performance test of touchscreen accuracy that can be performed by anyone.
Testing Methodology: Explaining The DIY Touchscreen Accuracy Performance Test
Test requirement:
Touchscreen smartphone
Basic drawing app
Test Methodology: The test involves slowly drawing diagonal lines
Why draw slowly? On a good touchscreen, users can draw clean straight lines, as the screen can accurately displays what was physically drawn.
On inferior touchscreens, it's impossible to draw straight lines. Lines would end up looking jagged or zig-zag, no matter how slowly they are drawn. Those non-straight-line-artifacts are telltale signs that sensor size is too big, the touch-sampling rate is too low, and/or the algorithms that convert gestures into images are too non-linear to faithfully represent user inputs.
MOTO explains:
MOTO: Millimeters Matter
Small differences in touchscreen sensitivity actually reveal exponential difference in performance. Less sensitive touchscreen systems can be infuriating to use for typing, gaming, and drawing.
iPhone vs. Nexus One vs. Droid vs. Droid Eris, Smartphone Touchscreen Performance Test Results
Capacitive touchscreen of Apple iPhone is tested against the latest Android phones. Here are the test results: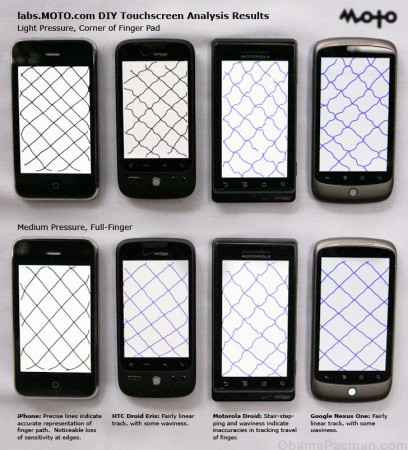 iPhone: Precise lines indicate accurate representation of finger path. Noticeable loss of sensitivity at edges.
HTC Droid Eris: Fairly linear track, with some waviness.
Motorola Droid: Stair-stepping and waviness indicate inaccuracies in tracking travel of finger
Gogle Nexus One: Fairly linear track, with some waviness.
Test result shows the Apple iPhone touchscreen is the most accurate in both scenarios of light pressure, corner of finger pad, and medium pressure, full-finger. In contrast, all Android phones tested, even their latest Nexus One "superphone," are shown to be fickle and inaccurate in certain situations.
Goal: Better Signal-to-Noise Ratio
A touchscreen with better Signal-to-Noise Ratio (SNR), along with seamless integration between hardware components, software algorithms, and user-interface design, are critical elements of a smartphone. One that industry benchmark Apple iPhone seems to got it right.
MOTO suggests that to create a touchscreen system that's pleasant to use, touchscreen quality should be a greater focus for device makers.
Multi Touch Sensing, DIY Touchscreen Analysis [moto development group]
via iPhone wins touchscreen quality test [macnn]

Related Posts