Howard Stern Sees Nexus One as Unoriginal, Appreciates Apple iPhone Innovations
Radio personality Howard Stern talks about Nexus One, the new iPhone wannabe of the month. Stern sees Apple as the true innovator.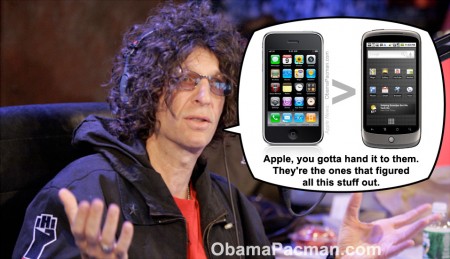 Regarding Nexus One, the self-proclaimed "superphone," Howard Stern sees no real innovation.
Howard Stern sees the Nexus One as based on iPhone: "Google has it's first superphone for what appears to just improve on older gadgets, namely the iPhone."
The show Producer Robin Quivers asked "Well what's wrong with that?"
"What's wrong with it is that you wish somebody could invent something fu*king new. Apple, you gotta hand it to them. They're the ones that figured all this stuff out." Stern voiced.
iPhone Savior has a great analysis on Apple iPhone vs HTC Nexus One: "If you believe that imitation is the sincerest form of flattery, then Google is clearly the front runner in bowing down to Apple's epic innovations… Is the Nexus One a 'superphone'? Let's not mistake imitation with innovation. Stern gets it."
via
Howard Stern Pimps iPhone Over Nexus One [iphonesavior]

Related Posts