Hate Inefficient Flash? Google Provides HTML5 YouTube Video Option
Google's YouTube is proving an alternative video format to the resource intensive Flash videos. Users with certain HTML5 and h.264 supported browsers can try the new, more efficient HTML5 video format on YouTube.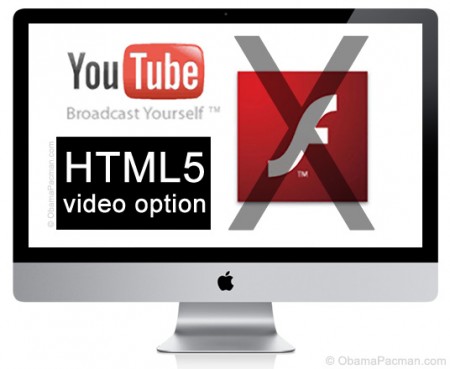 YouTube HTML 5 Video, A Better Flash Alternative
See below for the many reason to avoid Flash. Fortunately YouTube, the largest video site in the world, is taking steps to progress their video service toward the twenty-first century. Now, users can choose to have videos on YouTube.com served in HTML5 format instead of flash format:
Go to: www.YouTube.com/html5
Click "Join the HTML5 Beta," the bold text would then indicate "You are currently in the HTML5 beta."
Currently works on Apple Safari browser, Google Chrome browser, or Microsoft Internet Explorer with Chrome Frame installed (Chrome Frame overrides the non-standard compliant I.E. Engine with HTML5 engine).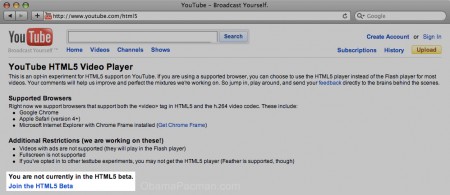 YouTube account is not required. HTML5 video option is currently available on YouTube.com pages only, not available on embedded YouTube videos.
Why Not Flash
Flash is a proprietary video format made by Adobe that came to prominence in the 90s. Due to Microsoft's fear of open video formats, Microsoft used its Windows monopoly to popularize Flash, in an effort to counter more modern, open video formats.
Often used for animated, distracting flashing ads, here are some reasons people don't like Flash.
Flash is not search engine friendly, content wrapped in flash are not useful to the blind or those who use a screen reader.
Flash are basically browser-run virtual machines with their own problems and vulnerabilities.
Flash is resource intensive. The Flash virtual machines are inefficient and wasteful of system resources. Furthermore, Adobe did a very poor job (if any) of optimizing Flash for Mac OS X.
Flash encourages useless, gratuitous animation which are wasteful of laptop / mobile device battery life.
Thankfully there is a better option. HTML5 contains a new video standard that is open and much more efficient on bandwidth and CPU processing power. Hopefully more sites will start making HTML5 videos available.
Proponents of HTML5
Besides Google, which uses HTML5 technology in its web apps, another major, high profile proponent of the World Wide Web Consortium (W3C) HTML5 open standard is Apple.

Apple intentionally leaves out Flash on the popular iPhone / iPod touch mobile OS due to the above "Why Not Flash" reasons. On the iPhone platform, instead of Flash, Google's YouTube videos have been served using MP4 H.264 since 2007. All iPhone and iPod touch support HTML5 videos as well.
Update:
Vimeo has also started serving HTML5 videos too!
via
Hate Flash on YouTube? Google now lets you see video in HTML 5 [9to5mac]

Related Posts