Graffiti Analysis iPhone App, Motion Art Rendered in 3D
Cool pocket sized digital graffiti recorder and 3D visualizer for iPhone and iPod touch. The custom software designed for graffiti writers and visual artists creates 3D animated art composed of "visualizations of the often unseen motions involved in the creation of a tag."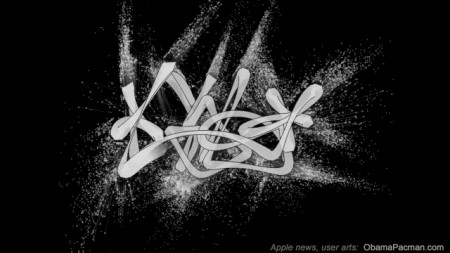 Maker of the Graffiti Analysis app reported that influential graffiti artists such as SEEN, TWIST, AMAZE, KETONE, JON ONE and KATSU have had their tags motion captured using the software.
All tags (a form of signature used by graffiti artists) created in Graffiti Analysis are captured and saved as an open source Graffiti Markup Language (GML) file, compatible with other popular graffiti applications such as Laser Tag and Eye Writer. Keywords can be added to each piece of the motion art.
The graffiti motion data can be shared and archived as code or animated 3D visualizations.
Motion Art Rendered in 3D
How it works: Thicker lines are created with slow movements, thin lines with fast movements, time is the third dimension that makes it 3-D.
Multi-touch built in for multi-line capture. 3-D environment can be navigated using iPhone / iPod touch built in multi-touch interface and motion sensor.
Captured GML motion art code / 3D rendering is cross platform, can be played back in Mac OS X, Windows, and Linux with their open source software.
Graffiti Analysis [iTunes link] is available in App Store for Apple iPhone and iPod touch.
Someone get Banksy the App!
Video: Graffiti Analysis iPhone App
via
DustTag iPhone App Lets You Create Graffiti Rendered in 3D [albotas]
Graffiti Analysis App [iTunes Store]

Related Posts