Gizmodo Writer Pwned By Anti-Apple Trolls: Apple Store Genius Bar Top Horror "Stories"
Apple Genius Bar, Industry leading satisfaction
In contrast with the fabricated stories, Apple employees, including the Genius Bar Mac / iPhone / iPod tech support are actually professional, well-trained, and personable people. There is a reason why Apple has industry leading customer satisfaction, above other PC makers, and above other mobile makers in the smartphone sector.
Apple hires people who rate high on many factors, such as
Ability to think on their feet
Ability to learn
Experience
Personality
Due to the high number of potential candidates, Apple only hires those who score highest on the factors that matters. But that's not all. After recruitment, the potential employees receive good amount of training. Those who don't have what it takes are eliminated before they see any customers. Current Apple Store employees receive continuous training as well.
Why else would Microsoft hire former Apple employees for the copycat Microsoft Store?
Apple Store traffic / Popularity of iPhone
Apple Store is one of the most visited retail stores in the world. They are always busy even when other stores aren't.
Because Apple make accessing all functions fast and easily, iPhone users are the largest consumers of mobile bandwidth, largest uploader of content to flickr, YouTube, etc. Many Apple Store visitors have iPhones. If something similar to the stories actually happened, it will be all over.
Example: the first photo of the U.S. Airways Flight 1549's Hudson River (scroll down past space shuttle) splashdown was captured on the iPhone. The iPhone image was disseminated all over the world, in minutes, before the traditional news organizations arrive on the scene.
Keep in mind that like any retail store, they also have security cameras, so don't mess around, example: NYC teenager was arrested for bomb scare threat of Staten Island Apple Store.
Conclusion: Fact check fail
In short, the Gizmodo Apple Store Genius Bar Top Horror "Stories" failed in these ways:
Bug: Extremely unlikely. Even if true, that would be a customer problem and can happen at any store.
Girl: Someone supposedly losing his girlfriend would be a personal issue.
Shuffle: Mac Geniuses are trained, tested, and certified. They would not make such an error on such a simple thing. 100% false.
Crash: Sounds like a bad hidden camera prank. Due to how busy Apple Store are, SOMEONE would have photos. 100% false.
Screwed: Mac Genius confirms they keep plenty of parts in inventory, including the obvious assortment of, small, inexpensive screws. 100% false.
Insult: Extremely unlikely. Mac Genius are trained to provide service, not insults. Plus trying to pin wrong obscure Vietnam-era insult on the obviously very different demographic who work at Apple Stores.
Good luck proving any of the stories legitimate. Some of the stories are clearly fabricated by the PCNormal crowd, while the rest are extremely unlikely. In reality, Apple provides great training for Apple Store Employees which results in industry leading customer satisfaction.
Instead of "I got screwed by Apple," maybe Matt Buchanan's story should be: I got screwed by pranksters.
Ridiculous? Epic fiction fail, or is it yellow journalism? What do you think?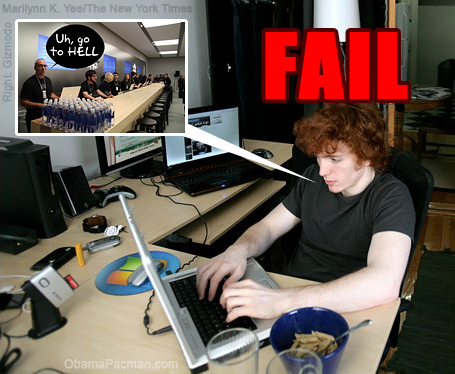 Reference
Written by ObamaPacman Editor, with facts confirmed by unnamed Mac Geniuses
File under Fiction and Fabrication Fail: Genius Bar Horror Stories [gizmodo]
Image Reference:
In Web World of 24/7 Stress, Writers Blog Till They Drop [new york times]

Related Posts