Funny iPad Video: Obama 2010 State of the Union + Apple iPad Keynote Mashup
A really great iPad Keynote spoof. In this funny video mashup, Steve Jobs' Apple iPad Keynote is combined with U.S. President Barack Obama's State of the Union Address!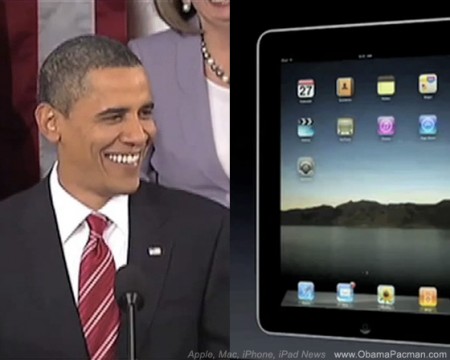 Two keynotes, hours apart but worlds apart, combined by the force, of comedy.
Video Spoof: President Obama Presents the iPad
What might happen if Obama becomes the CEO of Apple….
Gizmodo called it the "State of the iPad Address." Happened only hours apart on January 27, 2010, two prominent events are combined into a funny video parody of the Apple iPad keynote.
We know Obama and the White House likes Macs, but we didn't realize Obama would star in Apple's iPad Keynote! Amazing!
By barely political, well known for the Obama Girl videos. Founder Amber Lee Ettinger is a hot Mac user!
Love the trash talk that the Microsoft Zune is about as popular as a root canal! =)
via
Video: Funny Mashup of State of Union and iPad Intro [cultofmac]
Gallery: Obama iPad Spoof, Funny Video, State of the iPad Union

Related Posts