"BookBook" Leather Book Binding Case for Apple MacBook Pro
Want a timeless, classic leather binding styled hardcover protection for your Apple MacBook Pro 13″, 15″, and MacBook Air? There's a case for it!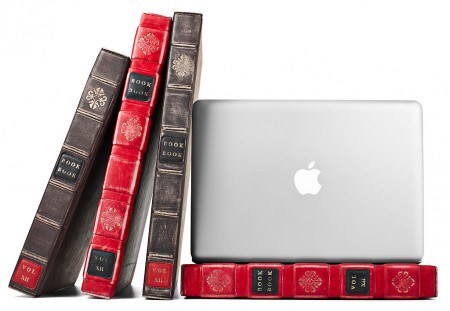 This innovative, stylish case for Apple laptops is a creation of Twelve South. Each case is unique, made with hand craftsmanship and unique distressing.
The unique case merges the timeless, classic look of antiquity classic leather book bindings with the latest Apple MacBook Pro laptop portables.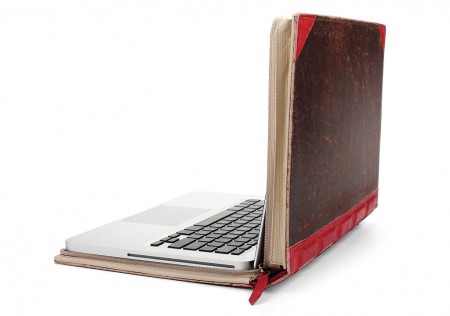 The Twelve South "BookBook" provides protection for your Mac portable with hardback leather cover, leather spine, and reinforced corners on the outside. Inside, the MacBook / MacBook Pro is safely stored within a velvety soft, padded interior. Definitely way more protection than a floppy neoprene bag.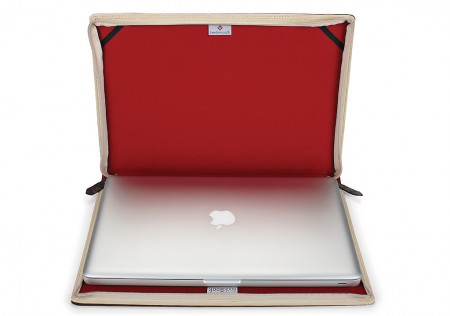 Available in Classic Black (brown with a black spine) or Vibrant Red (more vibrant brown with a red spine, red corners)
Works with 13-inch MacBook, 13-inch MacBook Pro, 15-inch MacBook Pro
Priced at $79.99
It's also said to work with the Apple MacBook Air: "Dimensionally MacBook Air will fit inside BookBook, with some wiggle room. You can use this extra space for documents, folders and other paperwork that travels with your MacBook Air."
If that's the case, think of how many iPhones you can fit in it! Maybe even two of the impending Apple Mac tablet / slate / iPad can fit in it?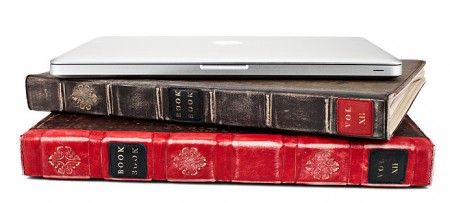 Can we just call the BookBook the Awesome Book Case?
Mac Exclusive, for Apple Fans
Twelve South is a company created by former executives from the fashion and consumer electronics industries. They are dedicated to making one-of-a-kind accessories exclusively for the Mac.
They also make the cool Twelve South BookArc [Amazon link
] for select models of the Apple MacBook, MacBook Pro, and MacBook Air.
OP notices, in a geeky homage to Apple, Twelve South even named their large photos on their web site "hero image."
BookBook Hardback Leather Case [twelvesouth]
via This Vintage Book Is Your New MacBook Pro Case [iphonesavior]

Related Posts