Chart: There's an Apple Product for Every Budget
Want to find Apple products in your price range? There's a chart for that. Boy Genius made a comprehensive chart encompassing the whole range of Apple products: iPod, iPhone, iPod touch, Apple TV, iPad, Mac Mini, MacBook, iMac, MacBook Pro, Apple Cinema Display, and Mac Pro; showing Apple products for people of every budget.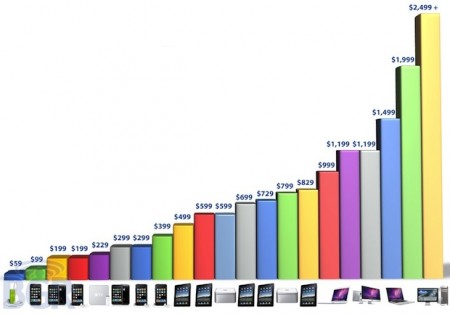 With the iPad mac tablet introduction, looks like Apple's price point lineup is complete. Who would have thought the iPad mac tablet would complete Apple's product offerings?
Boy Genius reports: "From $59 to $7,000, if you want an Apple product, there's a pretty darn good chance you'll be able to pick something in your price range. Simply brilliant."
Looks great! (Apple Airport products seems to be left out to show the products people can interact with). Large version of the chart at Boy Genius.
Think Apple has all price points covered? [boygeniusreport]
via Chart of the Day: Apple's Sub-$1,000 Price Points [cultofmac]

Related Posts