Apple iPad Features, Specs, Price, Availability, & Gallery
Photos, specs, features, price, and availability … everything about the new Apple iPad Mac tablet released by Apple CEO Steve Jobs in his famous Steve Note Keynote today!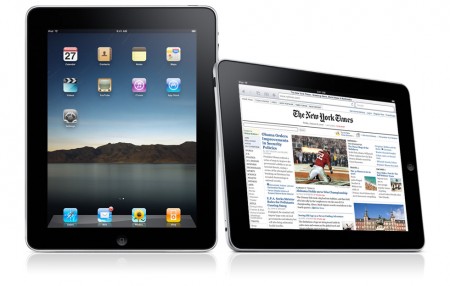 Features, Apple iPad Mac tablet
Pretty much everyone who uses use a computer or internet capable smartphone might be interested in the new Apple iPad mac tablet. Features include:
Multi-touch, eBooks (iBooks), calendar, photos, Safari web browser, video, youtube, iPod, iTunes, App Store, maps, notes, email, contacts, spotlight nearly-instantaneous-search, VoiceOver screen reader, and more.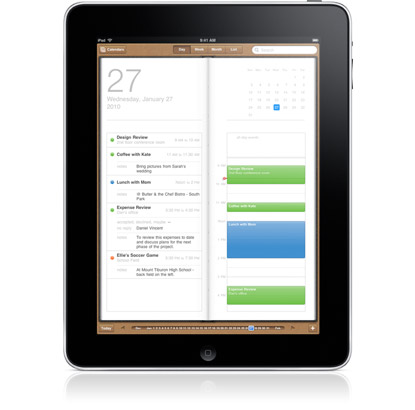 Application includes those for work, web, gaming, sports, arts, books, presentations, and more. There is also external display support via dock adapter.
Hardware Specs, Apple iPad Mac tablet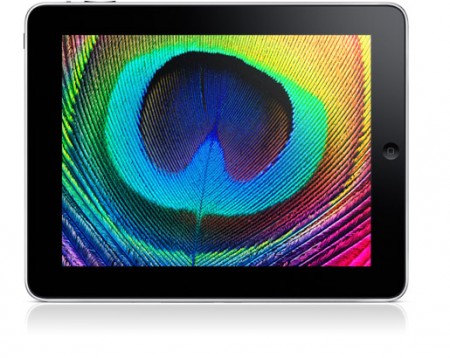 Apple iPad tablet hardware specs includes:
9.7-inch (diagonal) LED-backlit glossy widescreen Multi-Touch display with high quality IPS technology
Up to 10 hours of surfing the web on Wi-Fi, watching video, or listening to music
OVER 1 month of standby
1GHz Apple A4 custom-designed, high-performance, low-power system-on-a-chip
WiFi 802.11n
Bluetooth 2.1 + EDR
Accelerometer & Compasss
Speaker, Microphone, 30-pin connector
0.5 inches thin
1.5 pounds wifi model, 1.6 pounds 3g model
3G capability is optional, comes unlocked with worldwide standard GSM (sorry, Verizon, you don't use the worldwide-standard GSM).
Dimensions 9.56 inches x 7.47 inches x 0.5 inch (242.8 mm x 189.7 mm x 13.4 mm)
Accessories, Apple iPad Mac tablet
Apple iPad accessories include: dock, keyboard, booklet cover with built-in stand, and more. No price is available at this time: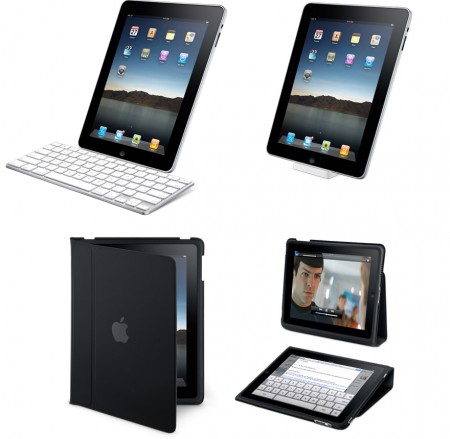 Price, Apple iPad Mac tablet
Is the Apple iPad over $1000, under $1000? Steve Jobs dropped a bombshell, that the Apple iPad will start at the very affordable $499 for the 16GB Apple iPad.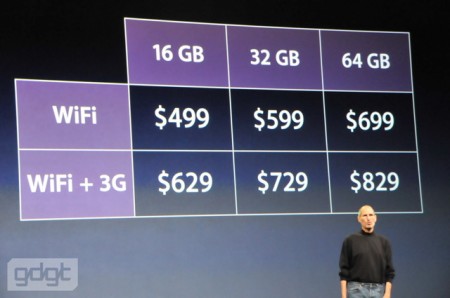 In contrast, many knockoffs of the 2007 iPhone today costs about the same price as the Apple iPad, without all the functionality and investment into usability that Apple has invested (which saves people time, and time is money).
Availability, Apple iPad Mac tablet
Apple iPad is available in 60 days wifi version, 90 days wifi and 3G version.
via
Apple iPad [apple]
Price image [gdgt]
Gallery, Photos, Images: Apple iPad Mac Tablet

Related Posts