Apple CEO, Steve Jobs iPad Candid Post Keynote Interview with Walt Mossberg, Video
Short video of Steve Jobs about the new Apple iPad, Amazon Kindle, battery life, and Pages, part of new productivity software suite for Apple's iPad mac tablet.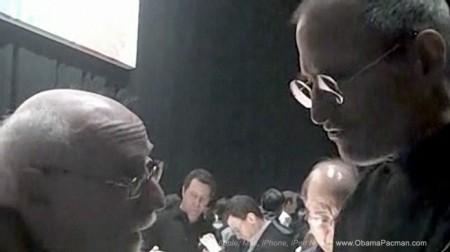 Apple CEO Steve Jobs answers some pressing questions from Walt Mossberg on the new Apple iPad mac tablet. On this candid video interview, Steve Jobs answers questions on iPad e-book (iBookstore) prices, iPad battery life vs Kindle e-book reader, and iPad tablet's use for productivity. Interview with Steve Jobs starts at 1:55.
Video: Apple CEO, Steve Jobs iPad Candid Post Keynote Interview with Walt Mossberg
Steve Jobs iPad FAQ
iPad eBook Prices Compared to Kindle eBook Reader
Mossberg has concern that the eBook prices will be $5 more than Kindle. Steve Jobs says eBook prices will be the same.
iPad Battery Life Vs. Kindle
When compared to Kindle e-Book reader, which has longer estimated battery life, Steve Jobs said "10 hours is a long time."
Steve Jobs says the Apple iPad battery life for certain functions, will be significantly more than the estimated 10 hours for reading, browsing, or watching video. Apple CEO Jobs mentions iPad battery life will be over 100 (one hundred) hours for continuous music.
(Background: Kindle e-Book reader gets its longer estimated battery life by using very slow refreshing, black and white e-ink. E-ink has no video support, and a major complaint is that the Kindlge e-book e-ink display flickers when changing each page.
Apple's iPad e-book reader isn't using e-ink. Instead the iPad uses really beautiful color LED display. Apple iPad's color display is instantaneous, can play videos, does not flicker.)
Steve Jobs on iPad Productivity Software, Microsoft Office Suite Compatible Substitute
Mossberg was wondering about productivity software on the iPad. Steve Jobs mentions Apple "Pages" software, which is similar to Microsoft Word. (Pages is part of the iPad optimized iWork productivity suite, Apple's version of Microsoft Office.) Mossberg points out potential incompatibility of Pages documents with people that might only have Microsoft office.
Steve Jobs, regarding to pages documents on Apple iPad: "you can save it as Word version, and send it as an email to your editor… You can do it right now."
BoomTown's Apple iPad Day, Starring Walt Mossberg (Plus a Steve Jobs Cameo!) [allthingsd]
via Steve Jobs Gets Candid on iPad, Kindle, and Love Battery Life [gizmodo]

Related Posts