2000-2009: Decade of Apple Conquests (Even Against Microsoft)
You are on page 2. Go to first page here
Apple Successful In Competitive Markets
What do the successful Apple products have in common? They compete in markets with very healthy competition. Those markets are not held back by the Microsoft-fueled FUD-machine, which is ingrained in the PC industry.
iPod competed against traditional electronics giants such as Sony (and their well known Walkman), goliath Microsoft, nimble tech start-ups, to Microsoft partners and their failed Windows CE based platform. Even Dell made a player that failed to compete with the Apple iPod. After all the competition, Apple iPod has prevailed as the leader of portable media player. iPod continues to top the chart in terms of purchases.
iTunes Store competed both against traditional retailers such as Walmart, Best Buy, online retail giant Amazon, various startups backed by Microsoft, plus various ventures / stores established by multi-billion dollar record industry giants. Apple iTunes Store is now the largest music reseller in the U.S., larger than traditional brick and mortar stores, larger than online retailer of music.
Apple sells about 80% more music than Walmart, the number 2 music retailer in the US.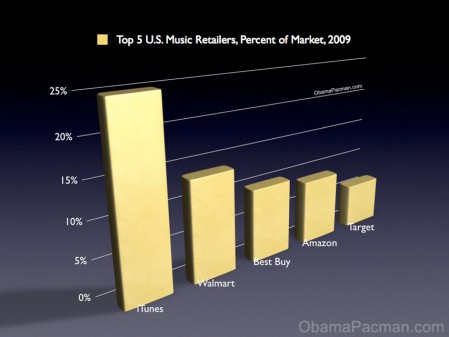 In 2 short years after its release, Apple iPhone has became the benchmark in the competitive mobile phone industry. iPhone is best selling model of phone and smart phone in the US. J.D. Powers research shows iPhone leads in satisfaction for consumer, business smart phone users.
What about some iPhone competitors?
Palm Pre: "iPhone killer" of the month, did not even increase Palm's market share
Nokia: shuts down number of flagship retail stores and other retail stores in 2009
Microsoft Sidekick phone: failed pretty badly under purchase and management of Microsoft
Windows Mobile: never gained a dominant position as promised by Microsoft, most mobile producers have dropped WM OS in an attempt to catch up to the iPhone
Android, bought by Google in 2005, with effort announced as far back as 2003 BusinessWeek, did not gain any significant market share thus far
Verizon had to double their early termination fee to $350 for "advanced devices," to slow down number of people from switching to Apple iPhone on AT&T
At the end of 2009, in just 18 month from opening, Apple App Store for iPhone iPod touch mobile devices has surpassed years of efforts made by Microsoft, Nokia, RIM, Palm, Motorola, Google Android, and others.
Continue reading using the navigation elements on top or on the bottom of the page…

Related Posts