2000-2009: Decade of Apple Conquests (Even Against Microsoft)
The decade ending in 2009 has been great for Apple. Despite some naysayers with their flawed stuck-in-the-1990s-mindset, Apple triumphed in a number of competitive markets, regardless of strong competition, amid the weak economy. Apple even scored significant wins against the formerly invincible monopolist Microsoft. As a result, Apple ends the decade near record-high company valuation.
Decade of Competition, Apple vs. Microsoft, 2000-2009
In the past decade, Apple has prevailed in all market spaces that are not controlled by a certain monopolist. Case after case, Microsoft's efforts to emulate Apple and try to muscle into the market using the Microsoft Windows monopoly has failed.
Examples of Microsoft Fails against Recent Decade of Apple Conquests
Microsoft's promise of yesterday's technology, tomorrow (along with "features" including designed-by-committee, delayed release, and water-downed capabilities) is no longer fooling consumers in the most recent decade.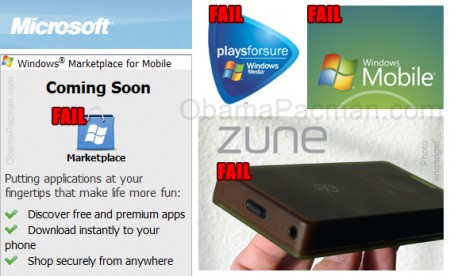 Some examples of Microsoft's consistently over-promised and under-delivered "solutions" to Apple in the past decade, none of them has any significant impact on Apple's marker leadership positions:
iPod vs. Windows Media Player vaporware in 2001
iTunes Store vs. PlaysForSure in 2004
iPod vs. Microsoft Zune in 2006
iPhone vs. Windows Mobile in 2007
Mobile Apps, App Store vs. Marketplace apps in 2008
Retail, Apple Store vs. Microsoft Store in 2009
After 8 years after iPod entered the market, Microsoft's-iPod-wannabe portable digital player, the 2009 Zune HD still fails to catch up to iPod.
Continue reading using the navigation elements on top or on the bottom of the page…

Related Posts