It's a Frap! Artistic Geeky Cafe Boards (With Location)
Possibly the greatest coffee shop ever… Fusion of wit, art, and awesome, this cafe has all the popular culture reference for the cosmopolitan geek! Featuring characters from Star Wars, Mario, Zelda, Batman, Portal and more. The very cool gallery of cafe art is created by Canadian barista and iPhone / Mac user Patrick Maloney.
This is the 100th OP article by the way. Time for some celebration!
It's a Frap! Funny Starbucks Cafe Art
The artist, Patrick Maloney's motto is "I'm just doin it for the lulz." Regarding his chalk art, Patrick said "I photograph the boards with my iPhone 3G and upload them through my mac mini, iPhoto blah blah blah, the usual suspects. Hope you like the boards."
Yes we love the boards. They are insanely great!
Location of Geek-Friendly Coffee Shop?
So you want to know where is potentially the mecca of geeky coffee shops? It is an undisclosed Starbucks in the Edmonton, AB, Canada area. Hint: near Sherwood Park.
Sunday Update: Matt at Geekologie said it's possibly the Starbucks at Sherwood Park Mall, Sherwood Park, AB Canada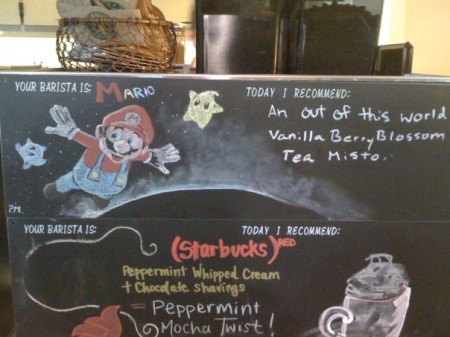 Moar? Ideas For Potential Future Work…
Maybe something from Pixar? Why no wall-e?
Geekologie has a funny suggestion: "Any chance of of a Geekologie-inspired board? May I suggest the Geekologie Writer's "PEW PEW!" Double Shot Espresso?"
It will be great to see something relating to Apple. Where are the Apple cider promotions? "Does it blend?" probably won't cut it? Maybe Patrick can come up with something way better from the book of (Steve) Jobs.
Check out the full gallery with 30 pieces of Patrick's cafe art below:
Super Silly Awesome Starbucks Drink Boards!!!1! [facebook]
via Buzzfeed through Livejournal
Gallery: 30 Pieces of Geek-Friendly Cafe Art

Related Posts