iPhone Orchestra: University of Michigan Program Creates New Form of Music Performance
U-M College of Engineering has a new type of media arts class that combines high-technology, art, and performance. Combining various iPhone features such as Multi-touch screen, Accelerometer, Compass, Wireless sensing, and the microphone, the course teaches students how to hack iPhones to create musical instruments.
Orchestra conductor, students with their iPhone instruments, plus Apple computer on stage. Some wearing the Steve Jobs uniform of black shirt and jeans: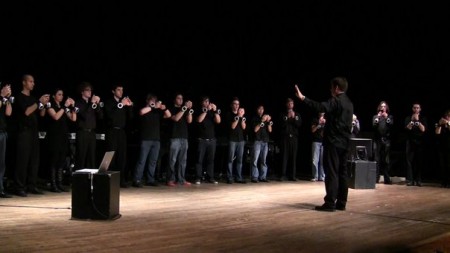 The new program is headed by Georg Essl, Assistent Professor for Electrical Engineering & Computer Science as well as Music at University of Michigan. Georg Essl was also an advisor for the successful iPhone app startup-company Smule, creator of Ocarina App, which they called the "first true musical instrument" for the iPhone. Georg Essl is the director of the Michigan Mobile Phone Ensemble, and also the co-director of Stanford Mobile Phone Orchestra (MoPhO).
The goal is to build new forms of music performance by engaging with technology. In this highly challenging combination of art and engineering, students learn to program iPhone apps, design instrument, and think about performance with instruments.
Could this be the forefront development of iPhone as emerging musical instrument?
Photo of the mobile phone ensemble instruments, include iPhones and purpose built speakers: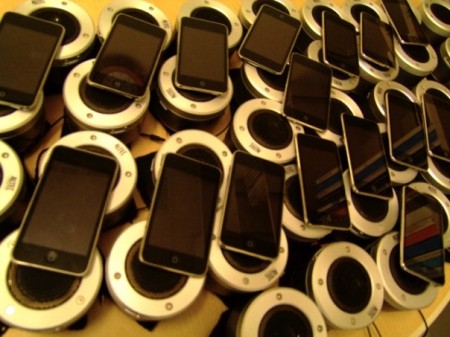 Being not tethered to the physics of traditional instruments allows many possibilities. Using iPhones, developers can either make a traditional instrument, such as piano or a flute, or they can make something that can be quite unusual.
Ease of use of iPhone and Apple's iPhone SDK allows rapid prototyping. The Apple app development software, runs on Macs and based on Objective-C, is available for free, without annual, perceptual licensing fees.
As culmination of the coursework, the students will perform a live concert with their Mobile Phone Ensemble. The iPhone orchestra is scheduled to perform next week, on December 9 at University of Michigan.
Video, Professor Georg Essl talks about the program:
Video of Practice Performance, 11/14/09
Here is a video of the "mobile phone ensemble" playing a piece of "music" that is NOT in their program. We hope their real piece is better than this jumbo mess of synthesized sound.
This piece is similar to an abstract electronic modern dance music, which might sound pretty lame to most people. Perhaps they need a John Lasseter (aka Pixar creative vision) behind their technology experiments.

(Michigan Mobile Phone Ensemble, Seamus Regional Concert,
"Drone (at large)" perhaps it should be titled as Orgy of Noise,
November 14, 2009, at McIntosh Theatre, University of Michigan)
Here is a better iPhone performance.
via
iPhone Orchestra Hacks Touchscreen, GPS and Accelerometer to Create "Music" [gizmodo]
iPhone as musical instrument video podcast [University of Michigan]
iPhones are musical instruments in new course and ensemble (w/ Video) [physorg]
Like this story? Check out related stories below, or share it with friends!

Related Posts