Intel Co-Founder, Former Executive, Leslie L. Vadász Is Mac User
IEEE fellow, the third Intel employee Les Vadasz was the design manager of world's first DRAM, EPROM, and microprocessor. Vadasz eventually became an executive at Intel with roles of Senior Vice President and President of Intel Capital. He was also elected to Intel's Board of Directors. One more thing, Les is a Mac user.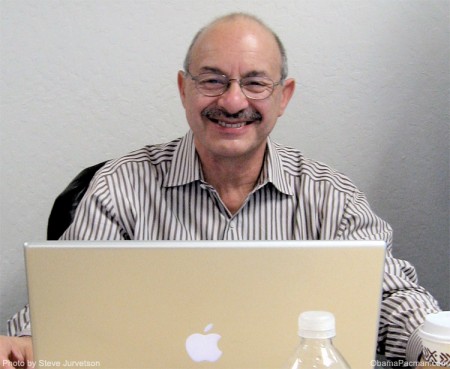 Vadász is an expert both in engineering and management. He had various engineering and general management positions with Intel since 1968.
He was elected a fellow of the Institute of Electrical and Electronics Engineers (IEEE) in 1977 for "leadership in the development of semiconductor memories and microcomputer components." He completed the Advanced Management Program at Harvard Business School in 1990.
In other words, Leslie L. Vadász knows what he's doing. And he uses a Mac, an Apple MacBook Pro laptop to be exactly in the photo above.
It wasn't always a Mac for Leslie L. Vadász. Before Apple switched to intel, Apple used processors from Intel competitor IBM for Apple computers, and Leslie couldn't use a competitor's product. But that has changed after the first Intel-Macs were released in January 2006.
Venture Capitalist Steve Jurvetson, who took the photo of Les Vadász, snickers at the irony, asked Les: "So, did you finally get to buy the computer you've always dreamed of having, now that there's Intel inside?"
Les responded: "You're god damn right!"
Apple Intel In Mac TV Ad
Here is an Apple TV ad about the Mac Intel transition.

Source
Permission to Speak Freely [Steve Jurvetson flickr] via Victor Panlilio
More references
Les Vadasz [Harvard Business School]
Internet Law Program 2003 [Harvard Law]

Related Posts