Female MIT Professor Heads Development of Killer iPhone App For Flying Military UAV / Drones
Apple's iPhone is girly… That's what Verizon's failed Droid ad advertised (plus something about the Verizon Droid cutting phallic objects and being a homicidal robot). But wait, here is a girl who can beat up all the nerds Verizon is targeting with their latest vzw-iPhone-wannabe. Sorry Verizon, girls are not clueless.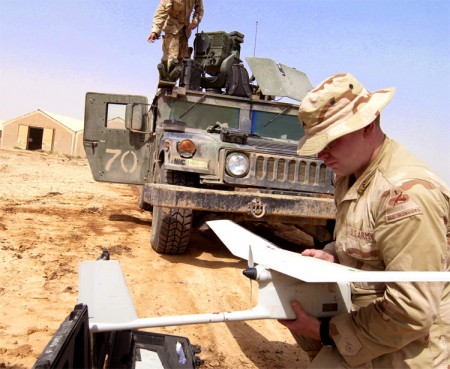 How do you simplify heavy, unintuitive, suitcase-sized controllers that soldiers must haul to control U.S. Military hand thrown Raven unmanned aerial vehicles? Former Navy fighter jet pilot has a solution: build an iPhone app to create lightweight, intuitive, and inexpensive controllers.
Professor Mary Cummings, Former Navy Fighter Jet Pilot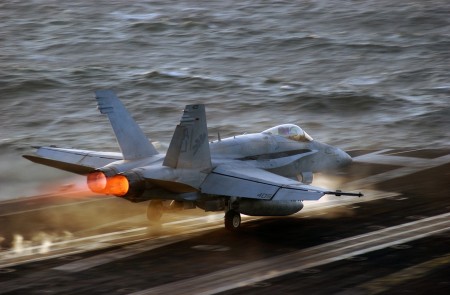 Former Navy F/A-18 Hornet fighter-jet pilot Mary (Missy) Cummings knows her equipment.
The fighter cockpit is the farthest thing from ergonomic. Cummings' experience with the unintuitive fighter-jet human interface inspired her to earn a Ph.D. in cognitive systems engineering, so she could improve the interactions between machines (such as autonomous vehicle systems) and their human masters.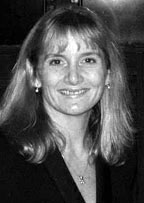 Mary Cummings is now a professor at MIT, leading the research of the Humans and Automation Lab (HAL).
Field Controlled Raven UAV
With more pilots being trained to fly UAVs / drones than fighter jets, UAV is an emerging technology that will take a significant role in the military of tomorrow.
One of the smaller deployed portable drones is the Raven UAV. The portable UAV is an asset for the troops, but it has a disadvantage – the heavy gear for the military's field operated Raven UAV crew: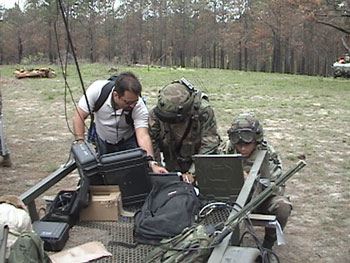 Professor Cummings' students suggested that an iPhone app can do the same thing.
It's a simple and efficient solution. Multiple pieces of equipments can be combined into a device that weights under 5 ounces.
Photo of preliminary test of the iPhone / iPod touch UAV control at MIT's lab: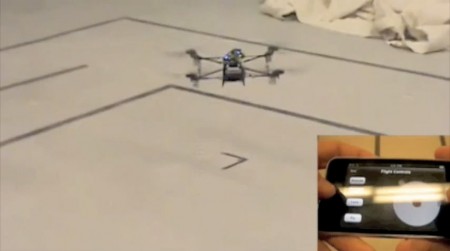 The humans don't need to steer the unmanned aerial vehicle to keep it in the air. Instead, the iPhone controller app allows:
Use of iPhone built-in motion sensor to control the vehicle
Use of iPhone to enter GPS way points for the robot to navigate using the built-in "sense-and-avoid" capabilities
Stream video or snapshots from the bot back to the iPhone
Full functions of iPhone, such as simultaneous communication of making conference calls
Rapid Application Development Using Macs
The fast turnaround of MIT's iPhone UAV controller app probably sets a record time for military / defense contractor projects.
"In six weeks, we went from the idea to a real flight test," said Professor Cummings. The cost is minimal: $5,000 for a new, commercially available, quad-rotor robot and cost of iPhones for her crew.
iPhone apps are developed on Apple computers aka Macs running Apple Mac OS X. The iPhone SDK is available at no charge from Apple (unlike another Microsoft tax: Annual licensing fees imposed on Microsoft's development tools).
Busting the myth that it must be very difficult to develop programs on Macs. The UAV controller iPhone app was developed in 6 weeks, not just a concept, some fuzzy feature set, or vague promises; instead, it's real and it's functional.
Conclusion
The iPhone app developed by female MIT Professor and her students allows easy supervisory control over robots. The rapid development is impressive. The practical solution can be a benefit to armed forces and civilian alike.
If you are in the military, would you rather haul large suitcases or carry iPhone or iPod touch weighting around 4.8 ounces (135 grams) to accomplish the same goal?
It might even get potential civilian applications. Cummings' own favorite: "Being able to launch one out of the window and fly it down to the Starbucks, to tell me how many people are in line, so I know when to get coffee."
Video: UAV control via iPhone built in accelerometer
Video: iPhone UAV control via touch input waypoints
via
Need To Fly A Military Drone? Yep, There's An iPhone App For That [gizmodo]
New Use for Your iPhone: Controlling Drones [wired danger room]
Photos
Navy F/A-18 Hornet Photo [United States Department of Defense]
Unmanned Aerial Vehicles [melhcorp]

Related Posts