iPhone: Japan's Best Selling Smartphone of 2009, 46% Market Share
After about one-year after entering the Japanese market, iPhone become the most popular smartphone there. Impress R&D reported that Apple's phone has established a 46% smartphone market share in 2009. Quite an impressive feat for Apple, considering even Wall Street Journal and Wired have prematurely called for iPhone's "failure" in Japan.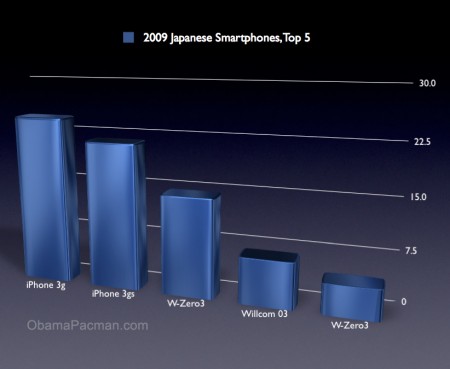 So how is the Japanese voting with their wallet?
Japan 2009 Smartphone Sales
For the smartphone sector, iPhone 3G leads at 24.6%, iPhone 3GS close behind at 21.5%. Top phone from Japan's own Sharp Corporation, which has been making mobile phones for over 10 years, fell to third place with 14.8% for their Microsoft Windows Mobile phone. Fourth place phone from Japan's Willcom has 6.8% market share.
Top google Android phone, NTT DoCoMo's version of the HTC Magic, the HT-03A, takes distant 10th place with 2.3%.
How did the other smartphones fare in Japan? Here are phones from companies that are often postured as iPhone contenders in the US; their Japanese sales are very low:
HTC Touch Diamond: 3.6%
Black Berry Bold: 1.2%
Nokia N82: 0.4%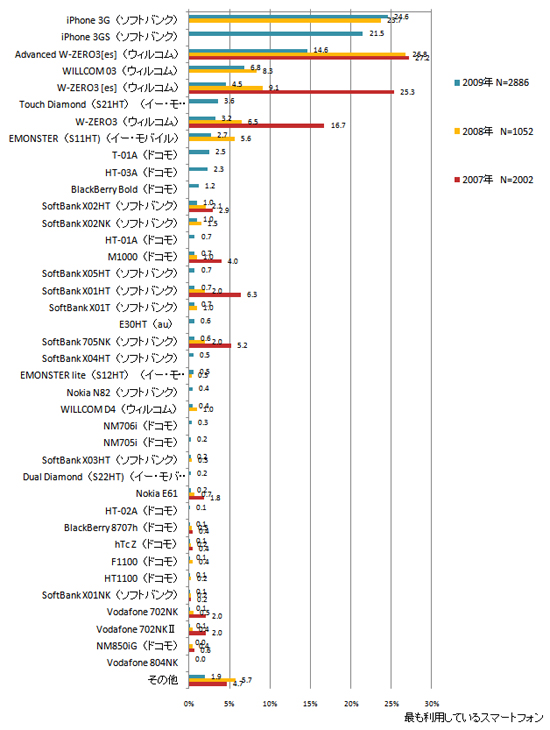 Nokia phones are so advanced that they don't even have 1% of the Japanese smartphone market.
Rush Judgement FAIL: Wall Street Journal, Wired
So much for the market failure of iPhone, called for by WSJ and Wired.
Quoting MM Research, writers from both WSJ and Wired publications, even the editor for Wired Gadget Lab, all ignored compelling qualities of the iPhone, and falsely proclaimed the failure of iPhone in Japan.
Wall Street Journal calls for "slow sales" of iPhone due to "the fact that Japan is already home to some of the world's most advanced cellphones."
Wired Gadget Lab article Why the Japanese Hate the iPhone it claims "the iPhone just doesn't cut it." Wired also claimed that "analysts were predicting [Apple's] handset would fail to crack the Japanese market," making parallel to the futile failure of Nokia and Motorola in the Japanese market.
Wired is right about one thing: "Japanese citizens possess high, complex standards when it comes to cellphones. The country is famous for being ahead of its time when it comes to technology."
And the Japanese choose the iPhone.
Even high profile Japanese corporate leaders such as Nintendo CEO uses the Apple iPhone.
Perhaps the pundits should never say never. iPhone suffering lack of demand in Japan? Afraid not. From 2008 to 2009, every single smartphone in the Japane's competitive market lost market share against the iPhone. The numbers are clear… Apple iPhone is the new market leader of the high-end phones in Japan.
Japan Softbank Wireless Carrier Ads
Next up, the pundits will likely ignore Apple's R&D investment into product usability, and call it a win for advertising. Well here are some ads from Japan's iPhone carrier Softbank for your entertainment.
Video: Softbank Dog Uses Apple iPhone
Looks like the Softbank talking dog has a thing for manga.
Video: Softbank Dog Uses iPhone Piano App
Talking dog plays piano.

Impress R&D [google translation]
Via
iPhone controls 46% of Japanese smartphone market [macnn]
Additional References
Apple's Latest iPhone Sees Slow Japan Sales [wall street journal / Yukari Iwatani Kane]
Why the Japanese Hate the iPhone [wired / Brian X. Chen / Dylan Tweney, Senior Editor of Gadget Lab]
Note the Wall Street Journal article is already debunked by:
The Japanese iPhone Failure Myth [roughlydrafted magazine]

Related Posts