Nintendo CEO Satoru Iwata uses Mac, iPhone, & Apple Keynote Software
Satoru Iwata is President and CEO of Nintendo, one of the most valuable listed companies in Japan. Barron's Magazine named Iwata one of the world's top CEOs, partly due to the highly successful Wii video game console, which leads in worldwide sales over competitor products Microsoft's Xbox 360 and Sony's PlayStation 3.
So how does a highly successful CEO make great presentations suitable for a multi billion dollar company? By using Apple Keynote software, of course.
Here is a slide from Nintendo's keynote at the 2009 GDC (Game Developers Conference) by Satoru Iwata. The slide has the unmistakable classy look of Apple's Keynote presentation software.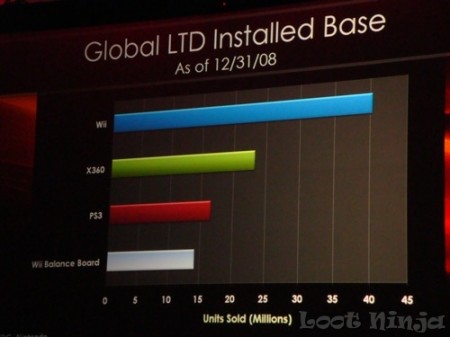 The graph shows the global installed base for the competing consoles: Nintendo wii, Microsoft xbox 360, Sony Playstation 3 (PS3), as of December 31, 2008. Nintendo wii leads in total installed base.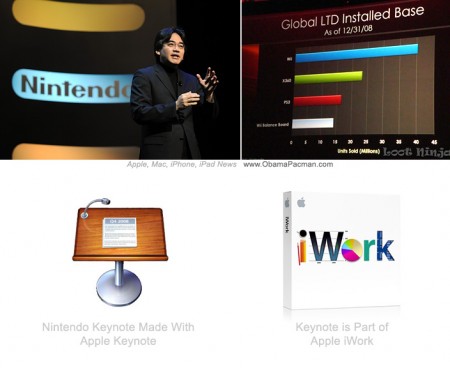 Satoru Iwata: Tech CEO
Satoru Iwata is not the Dilbert stereotype management stiff who is clueless about technology. On the contrary, Iwata is well versed in technology.
He majored in computer science at the prestigious Tokyo Institute of Technology. While Iwata was in school, he worked as a part-time games programmer for Nintendo's HAL Laboratory, Inc. subsidiary. After graduating from school Satoru Iwata was hired by HAL. He climbed through ranks of Nintendo to eventually become Nintendo's President and CEO in 2002.
Competition from Apple
While Nintendo is doing great in the TV gaming console business, the portable, handheld console business is experiencing a significant impact from a disruptive innovation: Apple's iPhone and iPod touch.
Apple's iPhone OS platform, with 50 million installed users as of Fall 2009 is changing the handheld gaming business.
Targeting the handheld console business, Apple advertise the iPod touch as a gaming platform that is the "funnest iPod ever."
Apple's platform is revolutionizing the portable video game industry because the Apple App Store, built on top of the successful iTunes store, allows instantaneous purchase and use of games and other apps.
With Apple's internet-based App Store, there is no need to go to the store to buy cartridges or equivalents that can be lost forever. The large number of games in the Apple App Store are available at affordable, impulse buy prices of $1 to $10, with some for free, as opposed to $20 to $45 per game for the old style handheld consoles.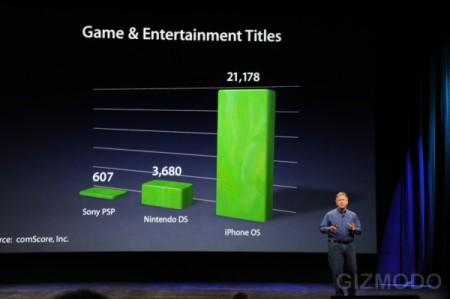 Nintendo and Sony, with Nintendo DS, Sony PSP (PlayStation Portable), are the major players in the business. Both companies have informed their investors of reduced earning as result of the iPhone platform.
Satoru Iwata, CEO of Nintendo, believes that Apple is targeting a different audience, just like the Nintendo wii came to lead the home console business by making games accessible to everyone, the iPhone platform targets a different audience than hardcore gamers. In an interview with venturebeat / gamesbeat, Satoru Iwata shows off his iPhone (no photo available), and calls the "areas of overlap are small" between iPhone with Nintendo DS at this time.
However, Iwata said "If we can't make clear why customers pay a lot of money to play games on Nintendo hardware and Nintendo software and differentiate ourselves from games on the mobile phone or iPhone, then our future is dark."
Apple Keynote Software
Besides the Nintendo CEO, another well known, successful CEO of a multi billion dollar company that uses Apple Keynote software is Apple CEO Steve Jobs. Jobs is admired for his consistent delivery of frequent amazing and captivating presentations at MacWorld and other Apple special events. Steve Jobs' presentations popularized the rotating cube effect, available in Apple Keynote software and also used in Apple's Mac OS X Fast User Switching.
When is the last time anyone saw a microsoft powerpoint presentation and calls it amazing?
Here is a short video of Apple Keynote '09 transitions and effects.
Like iPhone and other Apple products, Apple Keynote software is really easy to use, but has lots of capabilities. Users don't need an entire tech support department or programmers to help figure out how to animate objects, as Apple already invested R&D into product usability (so the users can focus on creation, instead of tinkering or looking through long, cryptic product manuals).
Apple Keynote software is part of iWork productivity software bundle that runs on a Mac. There is an app for it too, for presentation control from iPhone and iPod touch through a wifi network. You can get it from Amazon which has a sale on Apple iWork Software
.
via
Nintendo admits 'dark' future if it can't differentiate from iPhone [apple insider]
Nintendo CEO: Wii care about your heartbeat, but not your iPhone, the recession or free games [games beat]
GDC09: Semi-Live Blog of Satoru Iwata's Keynote [loot ninja]
More details on Keynote software
Apple Keynote Features with short video walkthrough [apple]

Related Posts