John Lasseter: Pixar creative, computer animation pioneer, Mac user
After failing to become commercially viable after two decades of research under various owners including under George Lucas' Lucasfilm and Industrial Light and Magic — Pixar's incredible hits are born under the creative vision of John Lasseter along with technology visionaries at Pixar, under ownership of Apple co-founder Steve Jobs.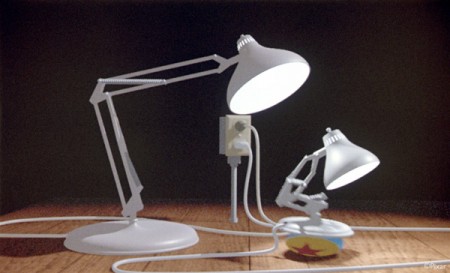 John Lasseter is an Academy Award winning animator, director, and chief creative of Pixar and Walt Disney Animation Studios. Some have compared him to a modern day Walt Disney, who can tell stories as memorable as the Disney classics Fantasia, Dumbo, Pinocchio, and Snow White and the Seven Dwarfs.
Pixar's films, directed or produced by John Lasseter, have all achieved critical and commercial success, starting with Toy Story in 1995, A Bug's Life in 1998, Toy Story 2 in 1999, Monsters, Inc. in 2001, Finding Nemo in 2003, The Incredibles in 2004, Cars in 2006, Ratatouille in 2007, WALL-E in 2008, and Up in 2009.
Toy-Story 3 is scheduled for release in June, 2010.
2009 Awards of John Lasseter
In September 2009, Lasseter and his team were presented with the Golden Lion Lifetime Achievement Award at the Venice Film Festival.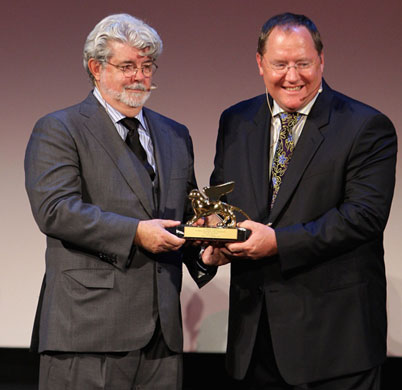 The award at the Venice Film Festival was presented by George Lucas, who attended the festival for the first time so he can present the award.
Funny mistake: UK Guardian captions the photo as "John Lasseter of Pixar, right, receives the Golden Lion Lifetime Achievement Award from a character from Up." But doesn't George Lucas looks sort of like the character from Pixar's Up?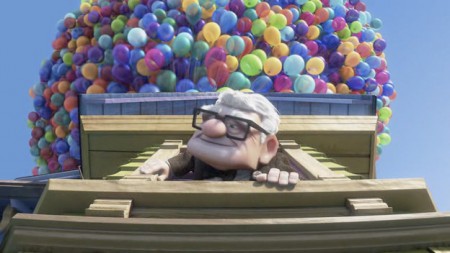 John Lasseter's latest award comes from the Producers Guild of America for his life's work with Pixar. John will collect his award at a ceremony on January 24, 2010.
John Lasseter, Mac User
Lasseter is a Mac guy. His office at Walt Disney Animation Studio has Apple laptop and Apple Cinema Display (probably connected to a Mac Pro).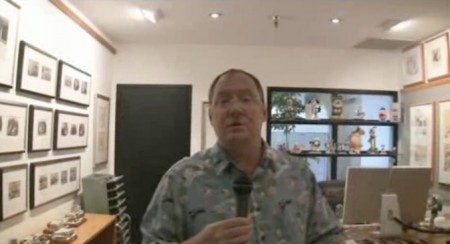 John's desk with Apple Cinema Display and Apple laptop with Toy Story action figures.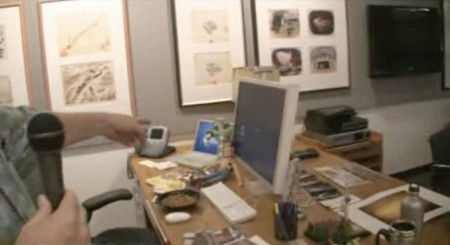 Older photo of John Lasseter when Pixar was owned by Steve Jobs, before sales to Disney.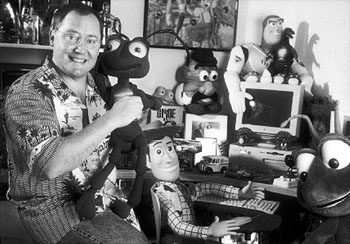 If you are an Apple fan, the rest of the story talks about why John Lasseter might be more important than you think. It describes how the paths of John Lasseter, Pixar, and Steve Jobs intertwined while Steve Jobs was ousted from Apple.
Continues on next page…

Related Posts