Free Mac Apps Promo: MacHeist Nano Bundle (expired)
For 5 more days, as a promotion, MacHeist is providing up to 6 Mac apps for free. The software range from productivity, social networking, to gaming. Being a business catered to Mac users who have high standards, MacHeist do not spam. So what's the catch? Read on to find out and get your free Mac app deals.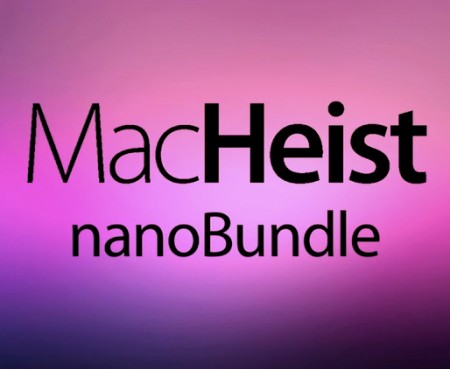 MacHeist is known to sell Mac software bundles at a great discount. The apps come with full license. No tricks, no spam, no annoying spywares. (You can change the email settings to receive no emails from them.)
Additional apps are unlocked if enough users participate.
This time they are doing a smaller bundle for free. The 6 apps are ShoveBox, WriteRoom, Twitterrific, TinyGrab, Hordes of Orcs, and Mariner Write*.
How can MacHeist make money?
When the software titles are updated in the future, some people pay for the new version of the apps. The software developers make money from the optional upgrades by users who like the apps.
MacHeist also sell some iPhone apps.
Normally MacHeist probably gets a cut of the sales of the packages. This time they are doing it as a promotion.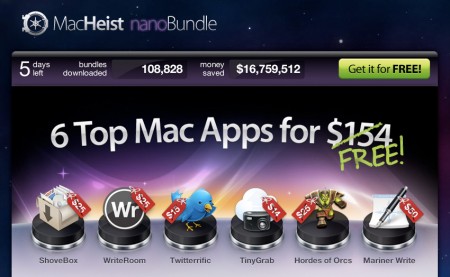 What are you waiting for?
So what are you waiting for? Up to $154 of apps waiting for grabs at $0 / free. Visit their web site, sign up, answer one question, and download your free apps. They have a short video describing the apps on their site. Deal expires November 12, 2009.
The apps are:
- ShoveBox ($25) – easily capture important bits of information
- WriteRoom ($25) – a distraction free writing environment
- Twitterific ($15) – popular Twitter client
- TinyGrab ($14) – quickly share screenshots
- Hordes of Orcs ($25) – tower defense game
- Mariner Write* ($50) – fast, streamlined word processor
*Mariner Write will be unlocked with 500,000 participants.
MacHeist [official site]
via Macrumors

Related Posts