Microsoft Tries to Copy Apple Store, Scottsdale AZ Store Opening Reveals Extent of Blatant Plagiarism

Microsoft calls the design of their new Store "Uniquely Microsoft." But is it really unique? Start reading from first page of: Microsoft New Store, Unique or Apple Store Copy?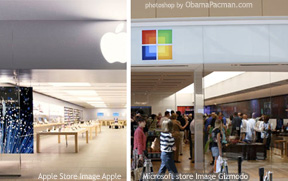 Employee Types: Org Chart Translator
Of course, Microsoft can't just photocopy Apple Store's org chart.
They have to make token changes, such as changing employee titles. Here is a translation chart in case you have to go to the Microsoft Store for the xbox Red Ring of Death or other problems (yes, Macs can run Windows and other Microsoft products).
| | |
| --- | --- |
| Apple | Microsoft |
| Specialist | Retail Sales Associate |
| Concierge | Retail Customer Service Associate |
| Genius | Retail Technical Advisor |
| Creative | What's That Word? I Am Confused* |
*Not a real job title
As mentioned before, Microsoft tries to poach Apple employees, and even uses Apple's playbook as their guide to hire new employees. How original.
Continue reading using the navigation elements on top or on the bottom of the page…


Related Posts