Microsoft Tries to Copy Apple Store, Scottsdale AZ Store Opening Reveals Extent of Blatant Plagiarism

Microsoft calls the design of their new Store "Uniquely Microsoft." But is it really unique? Start reading from first page of: Microsoft New Store, Unique or Apple Store Copy?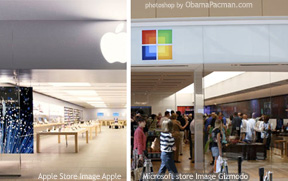 Multi-Colored Shirts
To identify themselves, those in retail typically have to wear a uniform. The technology retail industry standard is one uniform for all employees.
Apple breaks the norm by dressing employees in multi color shirts depending on employee function.
Employees wearing multi color shirts are a regular experience of the Apple Store for quite a few years. Example of Apple Specialist, Genius, Creative, Concierge, and Inventory Specialist and their multi-color shirts.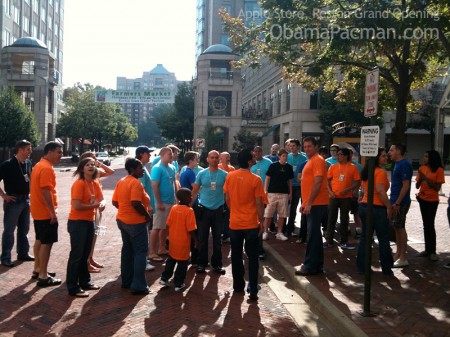 Apple Staff wears 4 types of multi-colored shirts: Light blue, Orange, Dark blue, Black. Microsoft Store also has 4 types of multi-colored shirts: Red, Yellow, Green, Blue.
What a "coincidence."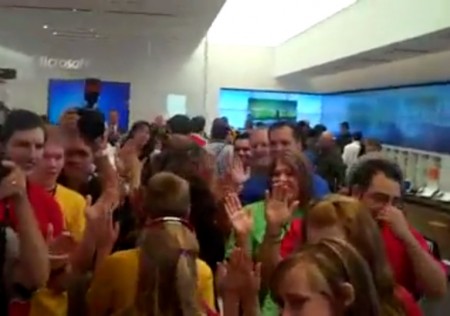 Apple staff's multi-color clothing are not gratuitous. They serve a function at the Apple Store.
- Light blue: Specialist (sales)
- Orange: Concierge (greeting, guide, check in for Genius Bar appointments)
- Dark blue: Genius & Creative (technical support, training)
- Black: Inventory Specialist (back-of-house gang)
Continue reading using the navigation elements on top or on the bottom of the page…


Related Posts