Microsoft Tries to Copy Apple Store, Scottsdale AZ Store Opening Reveals Extent of Blatant Plagiarism

Microsoft calls the design of their new Store "Uniquely Microsoft." But is it really unique? Start reading from first page of: Microsoft New Store, Unique or Apple Store Copy?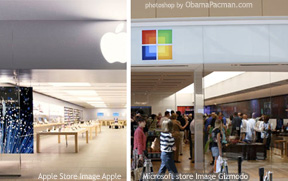 Opening Ceremony (Video: Apple Store vs Microsoft Store)
Apple Stores are well known to celebrate its openings and special product releases. Those events attract hundreds, and sometimes thousands of people.
For those who are there early enough, you get to experience friendly, energetic Apple employees, lined up, cheering and welcoming the customers into the store. You definitely won't forget the famous treatment.
Here is an example from opening of Apple Store Reston VA, a relatively small Apple Store. Large flagship Apple Stores have hundreds of employees for an even more impressive experience.
The famous Apple treatment has been happening for years, probably since 2001.
Now here is Microsoft Store in 2009:
Oh wow, Microsoft is so unique.
Continue reading using the navigation elements on top or on the bottom of the page…


Related Posts