Microsoft Tries to Copy Apple Store, Scottsdale AZ Store Opening Reveals Extent of Blatant Plagiarism

Microsoft calls the design of their new Store "Uniquely Microsoft." But is it really unique? Start reading from first page of: Microsoft New Store, Unique or Apple Store Copy?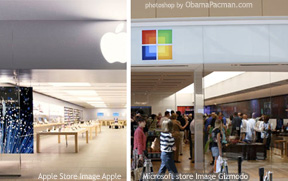 Journalist Impressions Roundup
Despite Microsoft's assertion of uniqueness, journalists did not see anything "uniquely Microsoft" when Microsoft new retail store was unveiled on October 22, 2009. On the contrary, journalists see overwhelming similarities to the Apple Stores:
"If imitation is the sincerest form of flattery, Microsoft is sending a big compliment to Apple." NPR Morning Edition Radio, Steve Inskeep.
"Physical appearance of the Microsoft Store–too similar to the Apple Store, in my opinion–won't earn Redmond any points for originality." Jeff Bertolucci, PC World
"Haunting resemblance to Apple Stores." Gizmodo.
"It's creepy, as in like stalker-ish creepy, just how blatantly they've copied Apple." John Gruber, Daring Fireball.
Conclusion
Microsoft's new retail store is the latest example of a company that regularly makes bold statements that might contain significant half-truths or works-of-fiction.
Contrary to Microsoft's statement, not only is the "first" Microsoft Store at Scottsdale AZ not their first, it's also not "uniquely Microsoft." Perhaps MS needs to look up the definition of unique. (Unique: unlike anything else)
Yes, MS has made some token changes, but the Microsoft's intention is no secret. Their goal is to mimic the iconic Apple Store and it shows.
In the mean time, Microsoft tells its shareholder that it has a "Commitment to Innovation."
Call it imitating, copying, or plagiarizing, Microsoft definitely isn't innovating here.
It would suit Microsoft to alter the motto of Ron Johnson, Apple Senior Vice President of Retail: "Why copy when you can create?" With some clever copying, pasting, and minor variation, Microsoft would have a new motto: "Why create when you can copy?"
Reference
Opening Day References:
Microsoft's First Retail Store Opens (Like Apple Store With More Colors) [gizmodo]
Microsoft Opens First New Retail Store in Scottsdale, Arizona [macrumors]
Microsoft Store opens to Scottsdale campers (video) [engadget]
Microsoft borrows Apple Store blueprint, manager (video) [engadget]
More References:
[1] 2009: First Microsoft Retail Store Opens [microsoft]
"First Microsoft Retail Store"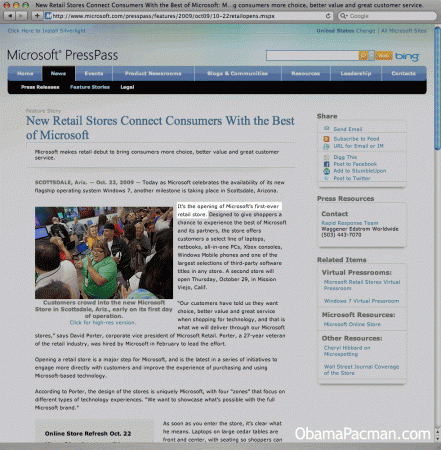 "Design of the stores is uniquely Microsoft"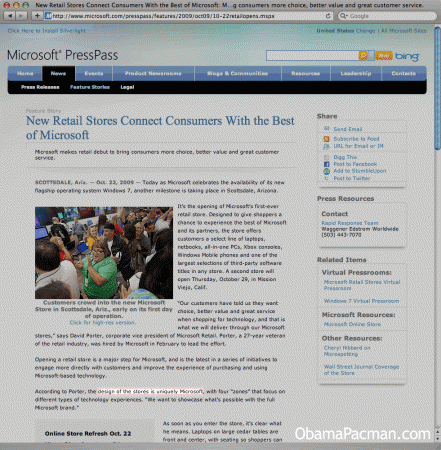 [2] 1999: Microsoft Debuts microsoftSF Retail Environment At San Francisco's Metreon Sony Entertainment Center [microsoft]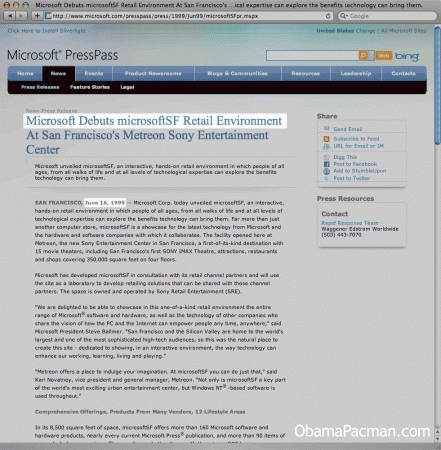 [3] Microsoft first retail store exits Sony-owned mall, November 2001 [cnet]
[4] Apple: America's best retailer [Fortune Magazine / CNN]
[5] Leak: Microsoft stores to mimic Apple's with "Guru Bars" [gizmodo via appleinsider]

Related Posts