Microsoft server cloud EPIC FAIL, data-loss for T-Mobile sidekick phones
After a week long service outage, T-Mobile announced to customers: contacts, calendar entries, to-do lists, or photos stored on Microsoft / Danger servers "almost certainly has been lost" for sidekick phones users.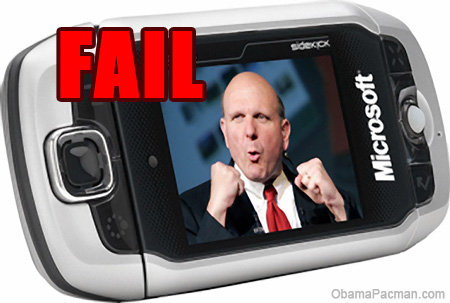 The news of the Microsoft cloud data loss catastrophe was announced on Saturday October 10, 2009. The weekend date was probably chosen to minimize news coverage of the epic failure announcement.
T-Mobile to Sidekick customers
T-Mobile announced:
"Based on Microsoft/Danger's latest recovery assessment of their systems, we must now inform you that personal information stored on your device – such as contacts, calendar entries, to-do lists or photos – that is no longer on your Sidekick almost certainly has been lost as a result of a server failure at Microsoft/Danger."
The likelihood of a successful recovery of data is "extremely low."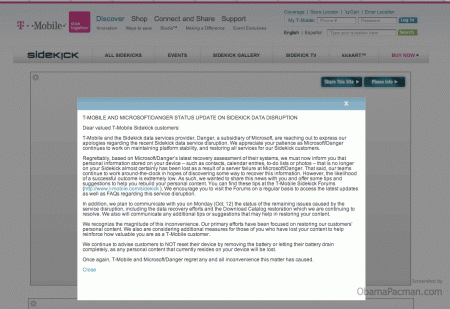 Sidekick customers are further warned: "during this service disruption, please DO NOT remove your battery, reset your Sidekick, or allow it to lose power."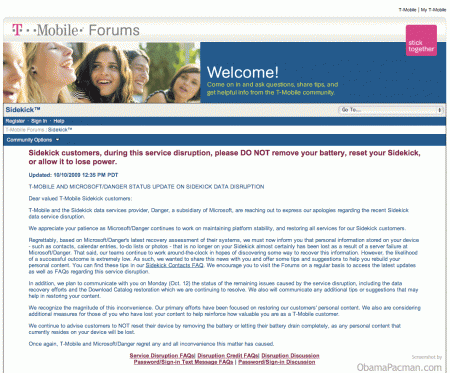 T-Mobile has paused the sale of new Sidekicks, as all models are now listed as "temporarily out of stock" on the company's site.
Microsoft Danger Cloud Computing
The T-Mobile sidekick was originally made by a company called Danger.
With Microsoft Windows Mobile unable to gain market share in a competitive phone market, Microsoft acquired Danger for $500 million in February 2008. Microsoft's Danger subsidiary is often thought of as the likely candidate to produce a Microsoft Zune phone that might one day follow the footsteps of Apple's iPhone.
Sidekick phones only holds some data temporarily on the devices in volatile memory. The bulk of data from the sidekick are saved on Microsoft cloud computing servers. Microsoft hopes to hold user data for perceptual revenue stream via subscription, unfortunately their server crashed.
Microsoft's failure is clear in this matter. It's been a year and eight months since Microsoft took over Danger. In all that time Microsoft did not care about its users enough to implement data backup. So much for customer satisfaction.
Funny thing is that Cloud Computing is actually one of Microsoft CEO Steve Ballmer's top 5 plans for Microsoft in 2009. With this example of a botched Microsoft system, can businesses and consumers trust Microsoft to reliably store valuable data on their servers?
Update, October 15
T-Mobile announced on October 15 that Microsoft claimed they have recovered most, if not all, customer data that was affected by the recent outage. They plan to begin restoring users' personal data as soon as possible, starting with personal contacts, after validating the data and their restoration plan.
No timeline has been provided, except that they will "post the next update on data restoration timing no later than Saturday (October 17, 2009)."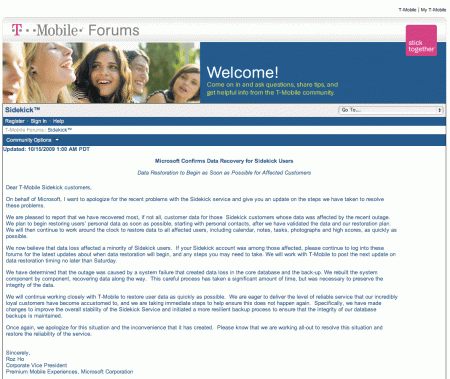 Update, October 17
October 17 has come and went. No schedule update except "will update you tomorrow with additional timing."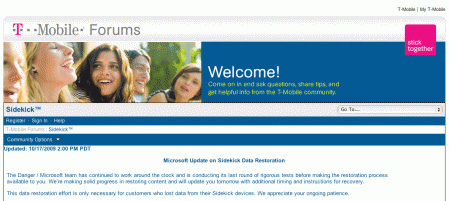 Final Update
As usual, Microsoft missed many of its own self-imposed deadlines. But eventually, with external help, it took Microsoft about a month to recover some but NOT ALL of the Microsoft sidekick user data.
Can you live without any of your emails, contacts, photos from your mobile phone for a month, and potentially losing all your data due to Microsoft service outage? That's a possibility when you choose Microsoft cloud.
via
Microsoft failure causes Sidekick data loss [electronista]
T-Mobile: we probably lost all your Sidekick data [engadget]

Related Posts